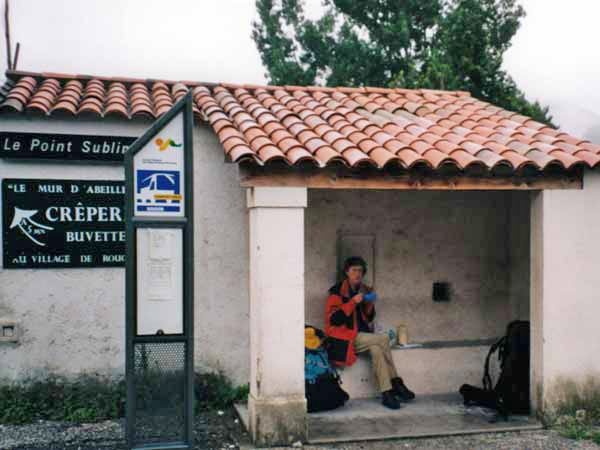 Sunday, 9 June 2002
Distance 20 km
Map 61 of the TOP 100 blue series (now superseded) or
La Haute Provence par les Gorges du Verdon Topoguide (Ref 401)
As dawn broke, the rain ceased. With the alacrity of guilt, we had the tent down in no time and were standing on the track at 6:30 am as if we had never stepped off it.
From there it was only a short descent to the chalet at le Point Sublime, which overlooks the gorge of the Verdon (the "grand canyon" of France, according to the guide books).
We sat in the bus stop to eat our muesli and had the satisfaction of seeing the surly cafe owner from Rougon drive past and give us a hard stare.

We walked out to inspect the track down to the gorge. The river was in spate, the path looked slippery in the wet, and my blisters were painful, so we decided to miss it and go to la Palud along the road.
Before setting off we stepped into the chalet and had coffee. This is one of the lovely things about France.
Swinging joyfully down the empty Sunday-morning road, with the sun on our backs, we came to a sign "La Palud 50 minutes" pointing off along a wheel track. Unfortunately we missed the second sign shortly afterwards, pointing up over the ridge.
We continued along the wheel track until it disappeared into a stream, which we found by direct experiment was quite deep.
We had to use Australian bushcraft to make our way up a steep forested slope on a compass course, before we found a gravel track and then a road that led us into the village.
My blisters, softened by immersion, were agonising.

We entered la Palud just as the midday bells were ringing. The village in its natural bowl was a delightful sight. As well as the tall church, there was a monumental fortified chateau at the centre. In the narrow surrounding lanes there were several restaurants, a good sign for us.
We had coffee under a sunshade at a pleasant bar. Luckily the little supermarket was still open, so we bought lunch provisions and retired to the camping ground, which was conveniently placed just beyond the last houses.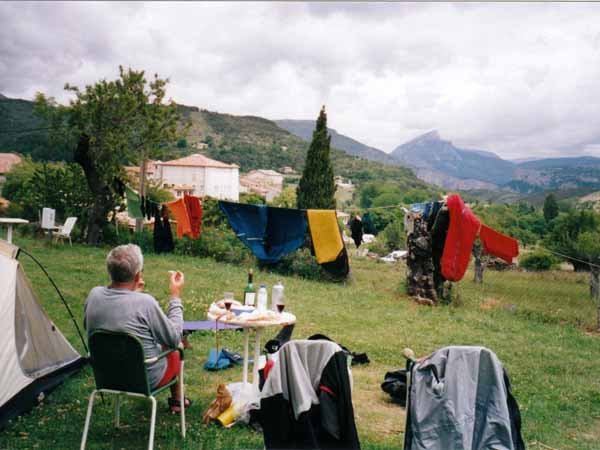 We got ourselves and our clothes washed, and our lunch eaten at a picnic table with a view over the village and the valley, before sinking into a restoring slumber in the shade of a willow.
In the evening we ate at the same bar we had visited before, but indoors this time. There was a glass-enclosed terrace with a lovely view and a pear tree pressed against the window. We had a choice of pizzas or nothing, as it was Sunday. Keith finished with a crème brûlée, whose glorious glassy crust set him off on his continuing mission to find its equal in France.
Previous day: Castellane to Rougon