Thursday, 2 July 2009
Distance 16 km
Duration 3 hours 15 minutes
Ascent 47 m, descent 60 m
Map 48 of the TOP 100 blue series (now superseded)

We saw the village of Varetz across a hayfield as we approached, compact, dark-roofed and promising of refreshment.
The promise was richly fulfilled when we got there – along the main street were a few shops, a gîte, a restaurant or two and a couple of bars. We had been walking for an hour and a half and were ready for our second breakfast.
Keith got some pastries from around the corner and we squeezed into a corner terrace, hemmed around by pots of flowers, for a delightful coffee break.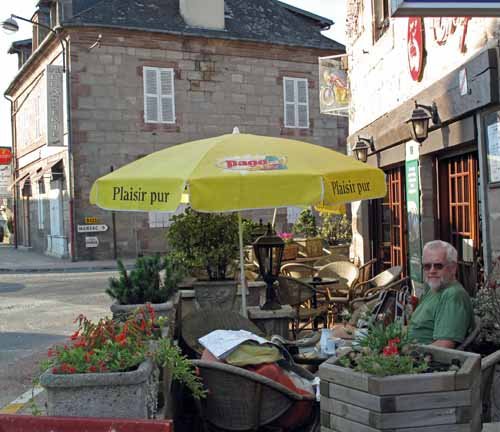 As we set off again through the side streets, the scene was even prettier. The houses, all of stone roofed with black slate, lined an irregular square and a crooked lane, now tarred but easy to imagine as dust, or mud.
Beyond the houses the GR took off up a ridge, but we stayed on the quiet road, close to the river, and after a while the GR came down to meet us.
By then we had arrived at a sort of toy town of brand-new little houses. Some workmen in a truck said that the main village of Saint-Viance was over the river.

The bridge was clearly ancient, but wide enough for a single vehicle lane, and on the opposite bank, in a tree-lined square, was a the open door of a bar. We did not need another coffee but it seemed ungrateful not to have one.
On this side of the river the houses were made of the same warm brown stone as at Varetz, with the same haphazard charm.
The GR had not crossed the bridge, so we joined it again when we went back over the next one, and continued through woods and fields on a wheel track, then on the road a short distance until we found the river again at Garavet.

The camping ground that was supposed to be there had disappeared, or rather had become a picnic area. I was having trouble with my recently operated-on eyelid, and it was time to get the stitches taken out, so we walked up the long road to Allassac, which was on the railway line high above the river.
It was a town of some substance, with a great dark church in the square and a crenellated tower called the Tower of Caesar, remnant of an ancient fortification, behind it. There were many shops, including a pharmacy, where we enquired about seeing a doctor.

While I was asking, my worries about my eye suddenly overcame me and I dissolved into tears, much to the consternation of the pharmacist. She offered to drive us to the medical centre, but it turned out to be just around the corner, so we walked. This gave me time to pull myself together.
There was nobody in the waiting room and I was shown straight in to see a doctor, an occurrence unknown in our native land, where we are used to a long wait, even with an appointment.
It was painful having the stitches out and the young doctor said that one of them had been touching my eyeball and irritating it, which would explain why it was so inflamed.
He was keen to fill out a form so that I could claim the cost back in Australia, but I informed him that Australia and France had no reciprocal agreement on health (he had never had an Australian patient before). Anyway, it was €22 well spent.

Greatly relieved, and hopeful that my troubles were over, we went back to the square and dropped in reassure the pharmacist, and to thank her for her help.
Then we found the Office of Tourism and discovered that the camping ground had been closed for five years. We suggested that perhaps the signs should be removed, in that case.
However there was one at Le Saillant, not far away. It was remote from any sort of eatery, so we would need to lay in some food, and we would have to hurry, as the shops were about to close at 12:30.
Provisioned for the evening with a tin of ratatouille, another of sausages and some fruit, we went down to the railway station and had lunch – the left-over pizza from last night – at a picnic table.

From there the road kept declining gently towards the river at Le Saillant, where there was another old stone bridge, a lovely little vine-covered bar, and a swimming hole bordered by a lawn. The village itself was across the river.
Like the other villages we had visited today, there was something delightfully random about its layout. There was a chapel with a little bell tower and a privately owned château behind a wall, and past that the camping ground was spread out along the riverbank.
When we arrived the owner was mowing the grounds with a tractor. There were only a few tents and caravans scattered about under the trees, so we had plenty of choice. We were still not familiar with our new super-lightweight tent and it took us some time to erect it.

A lone cyclist arrived while we were setting ourselves up, and when he started eating his evening meal at 5:30 pm, we knew he was English-speaking.
He was actually Irish, but had lived in New Zealand for years and had now retired to Confolens, in the Charente near Limoges.
Our hostess approached and said that she had charged him for all three of us, thinking we were one party, so she gave him some money back and we paid our share (€9).

Having put our little home to rights, we strolled back to the bar at the bridge and ordered a half-litre of red, of which we drank a glass each, putting the rest into a water bottle to take back for dinner.
The smiling woman owner brought round flyers to all her customers, advertising the fact that she would be serving meals from tomorrow – just one day too late for us.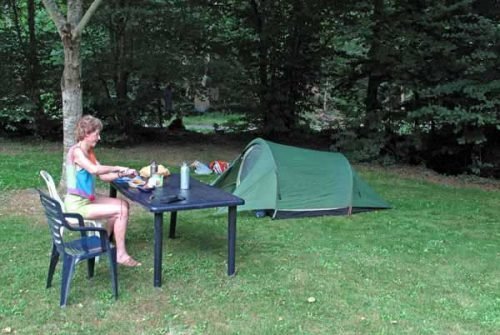 Anyway, we already had our supplies and later sat up to a fine cold, tinned dinner with a plastic table and chairs that we had borrowed from the barbecue area.