In the eighteenth century, the town of Montluçon was a centre of industry, producing coal, iron, pit props, barrels and wine.
The difficulty was to get these things to market, so it was decided to build to a lateral canal beside the Cher river, joining the area to the Loire at Tours, with another branch going to the lateral canal of the Loire near Nevers.
Work began in 1810 and the canal was opened in stages from 1831.
Because of the relative scarcity of water in this part of France, it was made narrower than usual, which turned out to be a mistake.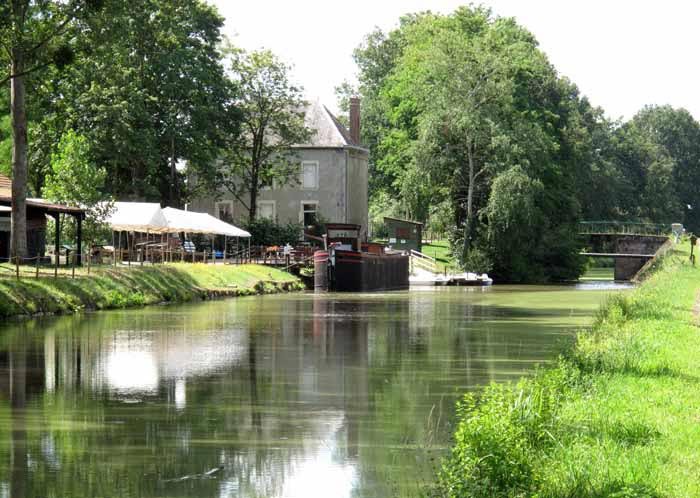 Boats from other canals were too wide to use it, and this led to its early decline and final closure in 1955.
Since then some sections have been blocked off, others drained and built over, and it is no longer navigable.
However it still has great charm. Many of the grand old avenues of trees remain along its banks, and the towpaths are maintained as walking or cycling paths.
There is now a society dedicated to reopening parts of the canal to pleasure boats.
Walk 1: Sancoins to St-Amand-Montrond
Walk 2: Montluçon to St-Amand-Montrond
Walk 3: Mehun-sur-Yèvre to St-Amand-Montrond
Walk 4: Mehun-sur-Yèvre to Saint-Aignan
To see icons for each night's accommodation on this map, press the full-screen symbol at the top right and then tick the accommodation icon box at the top left. Zoom in on a particular icon to see its precise location. These accommodation icons are also shown on all section maps.
You can also see this map using Google Earth and take a virtual flight along our route.