This southern part of the canal was not in the original plan of 1784, which aimed merely to connect Clamecy to the Seine (and hence to Paris), but the idea of extending it to join the Loire was quickly adopted.
The project was greatly disrupted by the Revolution and it took over fifty years for the whole thing to be opened.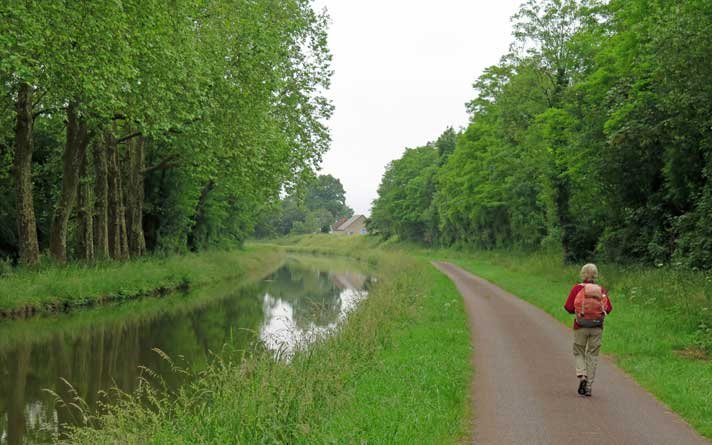 From Clamecy the canal climbed steadily and on the third day we reached the highest point, near Baye, and began to descend, finally meeting the lateral canal of the Loire at Decize.
Our previous walk had been in searing summer heat, but this time we hardly saw the sun and often had to bring out our warm tops and rain capes.

The whole of Burgundy was flooded and we walked for days with wet feet, resulting in an impressive crop of blisters.
After an initial night in a hotel, we camped our way to Decize, and often had to take refuge from the rain in our tent during the afternoon, instead of lying under a shady tree as we usually do. However we managed to get a splendid restaurant meal every night, so we were happy.
The villages were not as closely spaced on this part of the canal as in the northern section, but they were interesting and picturesque, especially Châtillon-en-Bazois and Cercy-la-Tour.
This section was part of a longer walk that we did in 2016.
Day 6: Clamecy to Dornecy
Day 7: Dornecy to Chaumot
Day 8: Chaumot to Châtillon-en-Bazois
Day 9: Châtillon-en-Bazois to Panneçot
Day 10: Panneçot to Decize
Previous section: Auxerre to Clamecy