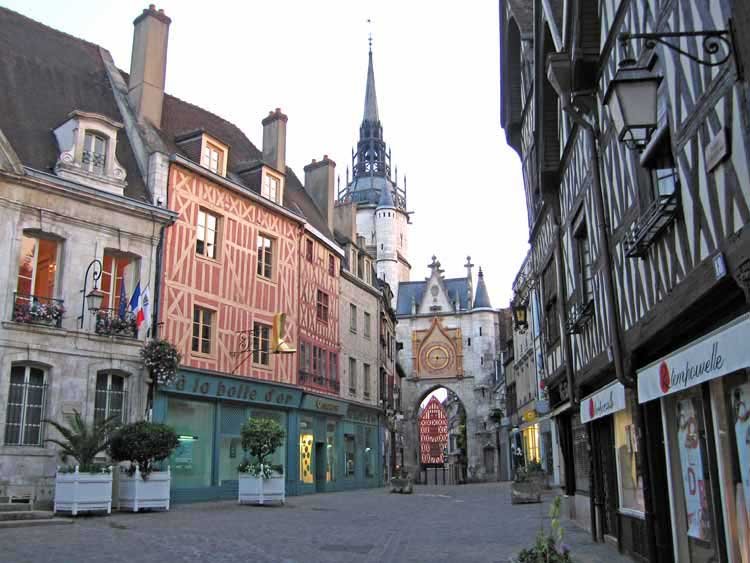 We spent five days dawdling upstream along the river Yonne and the Canal du Nivernais.
The weather was extremely hot, so we only walked for a few hours each morning, starting early. Most of the time we followed the towpath instead of the GRP (Meanders of the Yonne).
Our starting point, Auxerre, was a most interesting and picturesque town with many unusual buildings, chief among them a huge golden clock surmounting an archway over the road.
There was also a statue of the local writer Restif de la Bretonne, who was born in nearby Sacy and wrote copiously during the turmoil of the late eighteenth century, on the brink of the modern age, looking back longingly on an idealised pastoral childhood as well as forward to the new order.

One of his claims to fame was that he was the first to use the term "communism", which of course had no derogatory undertone at the time.
The good thing about the Canal du Nivernais for the walker is that the villages are much closer together than, say, on the Canal du Midi.
The villages were typically Burgundian – charming, prosperous, full of flowers and well-supplied with places of refreshment for the needy walker.

The countryside was benign, despite the heat, with mature crops of wheat and sunflowers on either side of the tree-shaded strip of the canal.
Getting to Auxerre
Auxerre has a railway station so you can get there from almost anywhere in France.
This section was part of a longer walk that we did in 2006.
Day 1: Auxerre to Vincelles
Day 2: Vincelles to Mailly-le-Château
Day 3: Mailly-le-Château to Châtel-Censoir
Day 4: Châtel-Censoir to Coulanges-sur-Yonne
Day 5: Coulanges-sur-Yonne to Clamecy