Tuesday, 11 June 2002
Distance 23 km
Map 60 of the TOP 100 blue series (now superseded) or
Topoguide (Ref 401) La Haute Provence par les Gorges du Verdon

From the village, after our morning coffee, we took the yellow-marked short cut down across the fields, over a bridge and up steeply through pines to the plateau.
Lavender farms stretched away in all directions, although they were not yet in full flower.
Beyond the lavender were the distant blue alps, streaked with chalky exposed rock resembling snow. We also passed truffle farms – ploughed strips between rows of oaks – and apple orchards swathed in muslin like brides.
After lunching under one of the few trees, we descended to the rather decrepit village of Roumoules for coffee under a huge plane tree, then regained the plateau with an effort. It was time for a siesta, not for a punishing climb in full sun.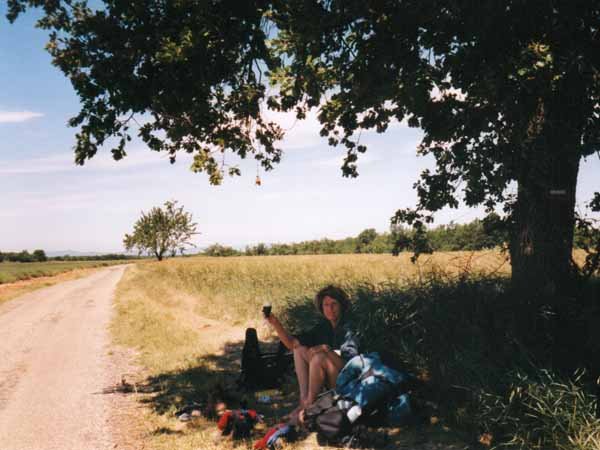 Further on, past an olive grove, we reached the church of St Maxim, overlooking Riez, and scrambled down into the streets of the village for a beer. The square contains a line of mutilated plane trees casting no shade.
The camping ground was full of badly sunburnt northerners in massive motor homes. We washed our clothes in the shower and hung them to dry on a bush.
The reason for the bush was that we had left our clothes line in Moustiers, breaking the golden rule that the line must come down with the clothes. I was obliged to put my shorts back on wet, as I had no others and it was too hot for long pants.

On our walk back to town, we admired the strange Roman columns standing alone in a field, the remnants of a temple which was dismantled in mediaeval times and reused for building materials. Despite their Christian faith, the villagers retained a superstitious dread of offending the old gods by desecrating the façade, so it was left, just in case.
For dinner we had an excellent "farandole des spécialités provençales" – a mixture of raw, roasted, fried and stewed vegetables with ham and bread – washed down with local red wine.
The restaurant was at the base of the town ramparts, on a street kerbed with white marble which looked suspiciously like that in the Roman temple.
Previous day: La Palud-sur-Verdon to Moustiers-Ste-Marie
Back to this section's summary