Wednesday, 16 June 2004
Distance 13 km
Duration 3 hours 0 minutes
Ascent 115 m, descent 160 m
Map 64 of the TOP 100 blue series (now superseded)
Topoguide Le Chemin d'Arles (blue cover)
We rose late from our bed of pain, still covered in yesterday's sweat. After a mouthful of muesli we hurried down to the village in search of the comforts of coffee. We stopped at the boulangerie for a bag of pains aux raisins, but then discovered that the bar was closed.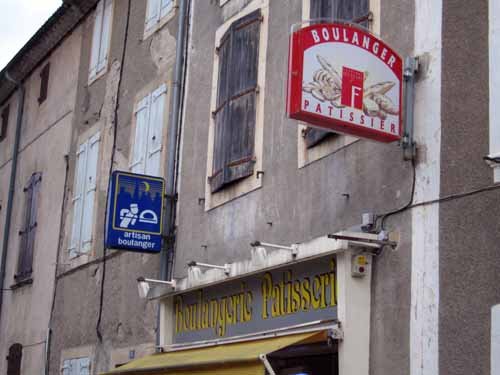 Just as we were walking despondently away, we noticed that the lights of the hotel were on and the door open. The barman was happy to serve us, and we sat outside in dappled sunshine, very much revived in both body and spirit. We were even able to have a hot wash in the hotel's sparkling rest-room.
Our next stop was the Office of Tourism, to let them know that we had been wrongly informed at Labruguière.
The woman on the desk rather superciliously explained that municipal camping grounds did not open until the 15th of June, at which we had the satisfaction of reminding her that it was now the 16th. Her face was a study in disbelief followed by discomfiture, and she hastened to assure us that she would immediately get the authorities to attend to the matter. This was no use to us, but we felt triumphant all the same.
So it was with a general feeling of satisfaction that we set off to rejoin the GR, which by now was the GR653, the pilgrim's Way of Arles, that we had encountered before near Lodève. This began as a pleasant old cobbled road, well-shaded, beside the modern highway, then turned off on small farm tracks going at odd angles across fields of ripe wheat. The weather was muggy and in the hills, the last of the high Languedoc, we could see rain showers.

As we approached Revel we decided to take note of the information in the Topoguide (in all other respects a useless document) that the camping was on the entry to the town from Sorèze, which meant that the easy way to get there would be along the road.
By this time we were sweaty and out of sorts, and another period of road-bashing did nothing for our morale. Fortunately the Topoguide was right.
The barrier at the camping ground was down, but we ducked under it and set ourselves up in a hedged cubicle, then had long showers to remove two days of grime. Things were improving fast.

We had a leisurely lunch and were just settling down for a nap when two municipal officers came up and told us that we were in breach of the regulations, coming in when the barrier was down. We apologised with due humility and after that, their duty done, they were all smiles.
Keith went with them to pay for the night and had to fill in pages of paperwork, all for €6.
Later we walked into town, which was not difficult as Revel's bastide layout means that all streets either radiate from the centre or ring it.
The central square was impressive, with all four sides still in possession of their couverts, the heavy arcades protecting various shops and cafés.
In the middle was an elaborate structure, originally a market hall but now housing the Office of Tourism, with a tower and belfry above. It was a busy scene, with cars nosing in from all sides and pedestrians swarming. They would do better to ban cars from this square.

We had coffee at a bar, then Keith went off to buy a piece of cheese. He was away for an hour, and I could not leave, as the coffees were not paid for.
I was contemplating how to proceed with no money, no cards and no documents, when he returned, having walked miles in search of a normal food shop. After that I carried my own documents, or some of them. We spent the rest of the afternoon sending an email.
The charming medieval centre does not extend more than a couple of streets and we had trouble finding a restaurant that was neither closed nor exorbitant.
We settled on the Toscane, which proved delightful, although the ambience could never match Saint-Pons.
We shared a big salad, as is our habit, before polishing off the pizzas. The walk back through the streets seemed much shorter than the walk in.
Previous day: Mazamet to Dourgne
Back to this section's summary