Friday, 18 June 2004
Distance 28 km
Duration 6 hours minutes
Ascent 179 m, descent 296 m
Map 64 of the TOP 100 blue series (now superseded)
Topoguide Le Chemin d'Arles (blue cover)
Topoguide (ref. 716) Traversée du Haut Languedoc
We slept late and lingered over coffee before starting off, with pastries from the bakery next door. Lately we had gone such short distances that we were able to disobey our golden rule of starting early.
Our excellent host was despondent because France had not succeeded in beating Croatia last night, but we were in high spirits (not for that reason, I hasten to add).
We left at 8:30 and it only took 45 minutes of downhill walking on a minor road to regain the Rigole.

The countryside was not a bad candidate for the title of the Land of Cockaigne, short on roasted animals and rivers of wine, but long on abundant crops and orchards.
Once on the Rigole we continued our tortuous way. It is a favourite walking place for the locals and we met many of them, including a large party who laughingly stood aside as "les pros" came through.

We then made a mistake, for which we blame the Topoguides. The Way of Arles is very badly served by the new style of Topoguide, which has infantile sketch maps instead of real ones, and marks places in huge letters that turn out to be hamlets.
On the other hand, the traditional Topoguide of the Haut Languedoc was the ninth edition and had not been reviewed in decades, so its information was hopelessly out of date.
We were growing tired of the convolutions of the track and decided to take a more direct route to our destination of Montferrand, marked as the size of Revel in the new Topoguide.
By doing this we missed seeing the confluence of the Rigole and the main Canal du Midi, which was very disappointing and was made even more so when we got up the hill to Montferrand to find it a dismal little settlement with no shops, and only a closed gîte as accommodation.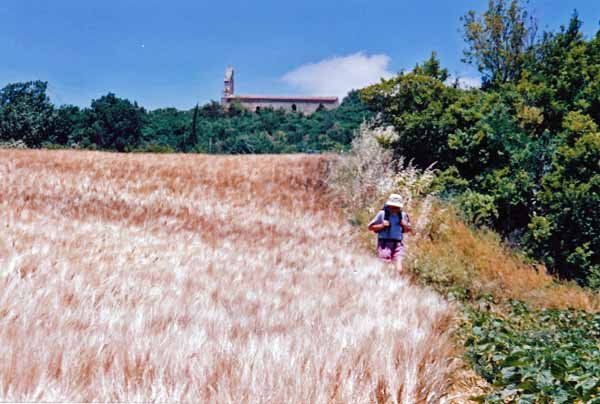 Admittedly the new Topoguide had not claimed anything more, but the old one listed a wonderful selection of comforts, including a camping ground, hotel, restaurant and shops. We even had to knock on a door to ask for water.
The woman who filled our bottles suggested we go on to Avignonet-Lauragais and told us how to get there by a back way. We followed her advice, but unfortunately we missed the turnoff and ended up in a field of waist-high thistles and wheat, which led down to the highway for another stint of road-bashing.
It was not long, however, until we passed an array of elegant white wind turbines and came to Avignonet, which was set back from the highway and above it.

A long stairway took us up to a delightful jumble of old streets, houses and towers, but there were no shops, so we went back to the highway and found a boulangerie that also served drinks.
We were attended by a plump pink man resembling one of his own iced buns, and we sat in yellow plastic chairs with the traffic rumbling past our toes, very pleased with our coffee stop.
After a while a solitary walker approached, grey-brown all over – skin, hair, clothes, pack and boots. We seldom see another walker so we greeted him as a comrade.

He was a Parisian, on his way from Arles to Compostela and had no idea where he would spend the night, in which respect he was no different from us, but we suspected he would be in a hedge with a mouthful of dry bread, whereas we had no intention of mistreating ourselves so.
The bun-shaped baker gave us good directions to a nearby camping ground, by a back way across the autoroute and the canal. This time we made no mistakes and arrived at a small field shaded by willows, with a few tents and caravans. From one of these our host and hostess emerged, and we paid the fee (€9) and found out that there was a restaurant only a kilometre away at the autoroute rest area, as well as one in the village which they did not think we would like.
There were only two showers but they were far above the average for camping grounds, with adjustable temperature and a strong flow. Normally we are grateful enough for a tepid trickle. It was hard to strike the balance between cold and scalding hot, but we enjoyed trying. Then we set off to find our dinner.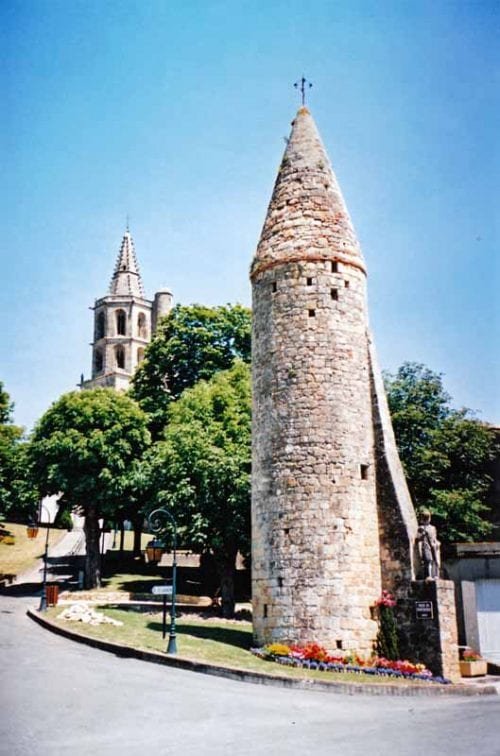 The one kilometre became three before we got to the rest area and then we realised we had made yet another mistake – we were on the wrong side of the canal and there was no way over in the vicinity.
Across the water, where moored boats were rocking peacefully, we could see the splendid glass dining room, and yet we could not get there, unless we swam.
Eventually we gave up and took the small road over the autoroute towards the village, hoping that the run-down l'Obélisque hotel we had seen on the highway was open, otherwise we would starve.
It was, praise the lord. A group of inbred-looking locals, probably descendants of the canal-diggers of 300 years ago, lounged at the bar, but we were shown into the relative gentility of the back room, and ate our steak and chips with gratitude and great enjoyment, washing it down with a jug of rough red wine, straight from the fridge.
By the time we got back to our little home, we must have walked 7 km in search of dinner. It had been one of those days that would have been so much better if we could have run it through again.
Previous day: Revel to St-Felix-Lauragais
Back to this section's summary