Saturday, 16 July 2005
Distance 12 km
Duration 2 hours 35 minutes
Ascent 233 m, descent 93 m
Map 57 of the TOP 100 blue series (now superseded)

We had the luxury of a late start, as our walk was to be short.
We timed our packing so that we arrived at the bar of the camping ground at 8:30, just as it opened.
Having forgotten to order croissants the night before, we had to make do with coffee only, but it was delightful all the same.
One of our fellow campers came up and addressed us in a friendly way, but I could not understand him until I realised he was speaking English: "You return to Australia?" How he knew we were Australian was a mystery.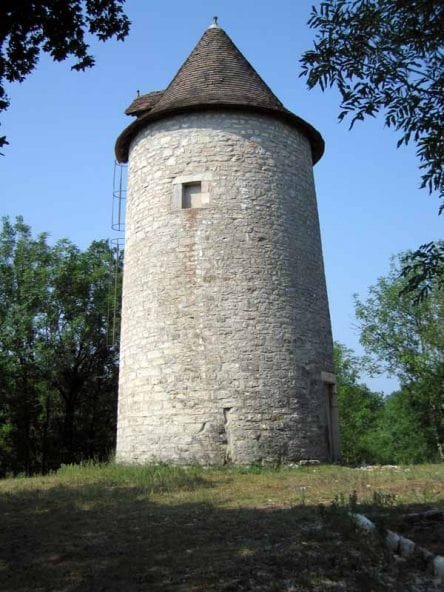 We set off on the river road at 9 am. It was flat, well-shaded and devoid of traffic. Then a car drew level with us and the friendly Frenchman from the bar called out "Good route to Syd-nay!" Lovely man.
Very soon we came to the turn-off to Crégols and went the other way, up a gentle incline to the causse, where the flourishing greenery of the river flats gave way to parched scrub and oaks, with the occasional relic of past industry such as a windmill with no sails.
At the entrance to the village of Lugagnac, a sign proclaimed that we were entering a 'cité fleurie'. Many towns have this sign but we had never seen one with four flowers, the highest classification, so we looked forward to a veritable florist's shop in the centre, but all we saw were a few sad hollyhocks and a pot of daisies. We came to the conclusion that the sign had been stolen.
Out on the road again, we were honked by a car coming towards us – the friendly Frenchman on his way back from somewhere.

We got to Limogn-en-Quercy at 11:30, in time to beat the worst of the heat.
At the central crossroads, where cars have to take their chances in six directions, one of the tree-shaded corners is taken up by a bar, and we flopped down gratefully.
The other corners are also occupied by shops and there were people walking about doing their Saturday shopping, shaking hands and kissing each other.
Limogne-en-Quercy is on the official pilgrimage, the part we missed in 2002 by going down the Célé, so it was not surprising to see another pair of walkers having lunch at the bar.
Then a gaunt creature of indeterminate sex shuffled past, with a pole in either hand, in the direction of the gîte, without a glance at the comforts of the town. These people give walkers a bad name.

The camping ground was past the gîte, near the swimming pool. There was a notice inviting us to instal ourselves, so we found a little glade of oaks and sat on my bedroll as usual for lunch.
It was a particularly good lunch, with all the things we had saved from the Truite Dorée and fresh bread from this village.
The showers were lukewarm but perfectly adequate for such a hot day, and afterwards we had a long rest in the shade while the Dutch family next to us lay sunbaking. It was 36 degrees.
At 5:30 we went back to town and ordered pastis and rosé, then took a turn around the streets to make sure we knew how to proceed in the morning. The prospects for dinner were not very bright.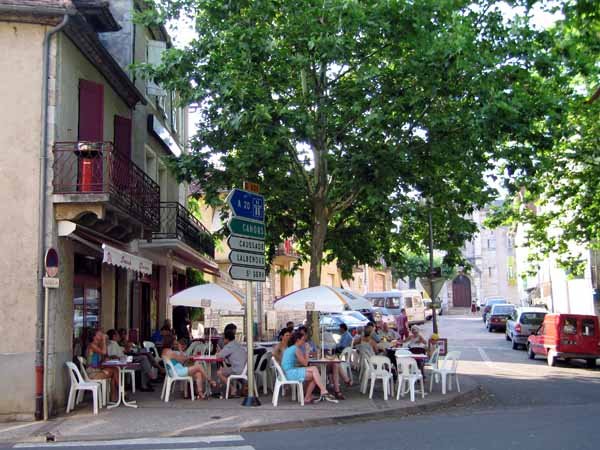 The first restaurant we tried was booked out for a wedding, the pizzeria nearby was hardly more than a take-away, and the only other place, le Vieux Quercy, looked dismal.
There was not a soul in sight, either on the terrace or inside. We remembered having passed a faded sign on the road in, advertising the 'refined cuisine' of this place, but that must have been long ago.
We went in and a waitress appeared. I asked whether we could eat here and she astonished us by enquiring whether we had booked.
"Follow me", she said, and led us through to the rear, where there was a beautiful walled garden, with overhanging trees, umbrellas, lanterns, daisies, lavender, and tables full of elegantly dressed diners. There was one spare table, beside the lavender.

Still recovering from the shock, we ordered a single dish each, lamb for Keith and steak for me. Then the waiter brought us bowls of gazpacho, just an 'amuse-gueule', he explained. All part of the refined cuisine.
Our meals were no less refined, with elaborately prepared vegetables such as green beans tied in a bundle with a strip of bacon. We had a salade verte beforehand and a jug of cold rosé to accompany this most excellent and surprising of dinners.
It was almost dark when we got back to the camping ground, but we managed to find the owner and pay him.
Previous day: Vers to St-Cirq-Lapopie
Back to this section's summary