Tuesday, 5 July 2005
Distance 16 km
Duration 3 hours 0 minutes
Ascent 272 m, descent 262 m
Map 48 of the TOP 100 blue series (now superseded)

Our Dutch friends were on the point of leaving when we crawled out at 7:30.
It is usually us who are first up in camping grounds, but today we wanted to get some information from the Office of Tourism about camping and restaurants in the department of Lot, so we could not start walking until after 9:30.
There was nobody in the office as we left the camping ground so we had a free night.
Having eaten our muesli on a low wall beside the abbey, we moved to a bar and settled down inside with a bag of pastries to read the paper over big morning coffees, served in dark green polygonal bowls with gold rims.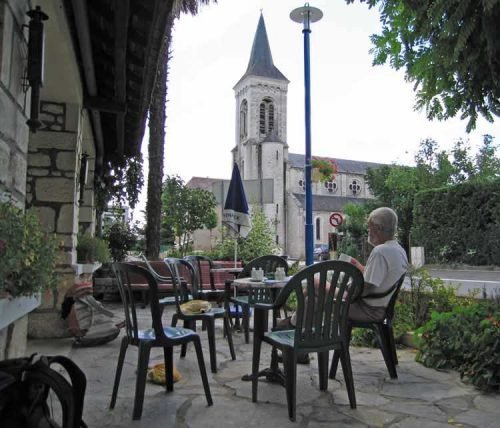 In due course the Office opened and we got our lists. The woman at the desk asked me what department we were from, which I took as a great compliment to my French accent, although she was probably just being polite. With a good supply of lunch food about us, we set off into the countryside, initially on a steep stony track and then on a small road.
Over the huge chasm of the autoroute we continued our ramble and soon dropped down to river level at the village of Saint-Sozy.

We had never heard of this place and were pleased to find it so charming and prosperous. There were two thriving hotels and a restaurant, as well as a few shops, including the obligatory hairdresser, although no pharmacy.
French village pharmacies often survive when all other shops have died, which must say something about the national faith in drugs and potions.
We stopped for coffee outside one of the hotels. The short way to Creysse seemed to be to cross over to Meyronne and then cross back.

Luckily we looked again at the map before we set off and realised there was no bridge at Creysse, so we took the road around the loop of the river instead and arrived without raising a sweat.
The village was even tinier than Saint-Sozy but had a big imposing hotel with a restaurant and brasserie.
A hundred metres further on, through a walnut grove, was the camping ground, packed with French families. The river was shallow here and people were wading, swimming, making barrages of stones and messing about in boats.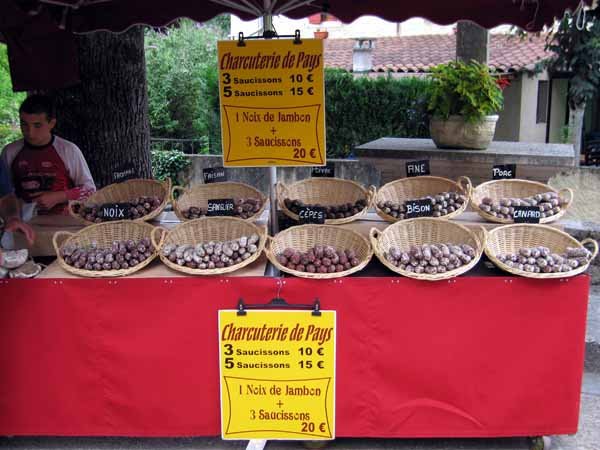 Children ran about in the bushes and climber trees, adults cooked over fires, just like hundreds of generations before them.
There was a "night market" in the little halle behind the hotel, starting at 5 pm. It was not quite Sarlat, but delightful all the same.
We bought two peaches, a cube of olive-oil soap and a lumpy cèpe sausage (we could have chosen donkey, or bison, or a dozen other equally alarming varieties).

Then we climbed up to inspect the stumpy little church, which has the distinction of being the only one in France with two apses. The onion-dome of a château could be seen down towards the river, but nothing else of it.
We retired to the terrace of the bar, where the stream divides and flows on both sides, so we were on a little island.
After a glass of rosé, we had a simple, leisurely meal of steak and chips and cheese omelette, with two large salads and a jug of wine.
Previous section: Les Eyzies to Souillac
Back to this section's summary