Tuesday, 12 June 2007

We woke punctually at 6 am, as we normally do in France, but Keith was not quite sure that he was better, so we decided to have a rest day. Also, we had no provisions to get ourselves to Céreste, which was a long stage and did not seem to pass any villages big enough for a shop. Going back into Manosque for supplies would add to the distance and we would have to wait for the shops to open, not an inviting thought in a heatwave.
Making the long return trip to town (although in the relative cool of the morning and without packs it was easy enough), we sat down at a café in the curving main street as the town woke up. It was not a very appealing town but we were happy to be sitting in front of a couple of grands crèmes.
Nearby we noticed an imposing stone archway jammed in between modern stucco buildings, but it was not until we visited the Office of Tourism and got the town plan, that we realised that there was a whole other town through the archway, that we had completely missed yesterday.

It was the old walled town, covering the top of the hill and surrounded now by the crass modern one. Inside was a charming tangle of lanes and squares, shaded by mature trees, with cafés, eateries and boutiques on all sides.
There were no private cars and no sign of cement render or aluminium window frames. If it had not been for the Office of Tourism, we would never have known about it, and would have gone away from Manosque thinking it a most uninteresting place.
Recovering from our astonishment, we followed the walking tour on the map, admiring a section of the original ramparts, then the house in which Jean Giono (a local literary hero) was born, and the churches of Saint-Saveur and Saint-Romigier, the latter housing the famous Black Virgin of Manosque.
This small, unassuming statue is the oldest Black Virgin in France. She is not quite as black as she was, since someone had the idea of washing her. Legend has it that, after the Saracens had reduced the village to rubble in the year 900, some cattle were seen kneeling in a circle around a bush, under which the statue was found.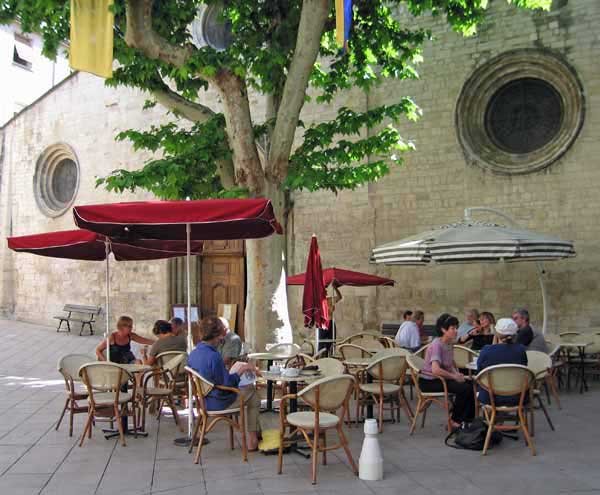 She is said to be particularly useful for bringing rain in time of drought, so we prayed for her to direct her powers to south-east Australia, but she did not seem interested, remaining stony-faced.
Tired by all this unaccustomed tourism, we had a second coffee break in the wide paved square near St Saveur.
Then we bought a tomato, two peaches and a tin of fish at a Petit Casino and set off to find the library, as we wanted to send an email. A passer-by kindly pointed out that our tomato was rolling down the street behind us. Our peaches were missing also but we found them further back.
The library, housed in a fine old patrician house, was closed until 2 pm, so we decided to while away the time having a proper lunch, instead of coming all the way back to town in the evening.

The restaurant that we chose was the Rosmarin in the Place de Bon Repos, which offered a plat du jour (osso buco) for €7.50 and a menu du jour (salade composée, osso buco, crème caramel) for €11. We had one of each and with the addition of a half-litre of red this made a feast in the beautiful tree-shaded square.
Back at the library we found we were not eligible to use the internet, but we found a cybercafé in the main street outside the wall and sent off our first email before retiring to the camping ground to book in for another night.
I explained that Keith was not quite recovered from the quiche he had eaten in Paris, and our hostess declared "No more Paris food!" French provincials love to hear bad things about Paris.
Previous day: Gréoux-les-Bains to Manosque
Back to this section's summary