The mountainous area of the Baronnies is much less well known outside France than its neighbour to the south, Provence.
The Baronnies area is wilder, steeper and less populated, but there a lot of similarities, such as fields of lavender, fruit trees and vines, olive groves, ancient villages, oak forests and the typical stony white ground of the south.
The massive bulk of Mont Ventoux, that famously hard stage of the Tour de France, separates the two.
We took four days to make the crossing from Rémuzat to Sault, and found it fascinating, although somewhat difficult in parts. We suspect that the difficulty was more due to our lack of condition and inadequate maps than to any inherent challenge in the route.
Getting to Rémuzat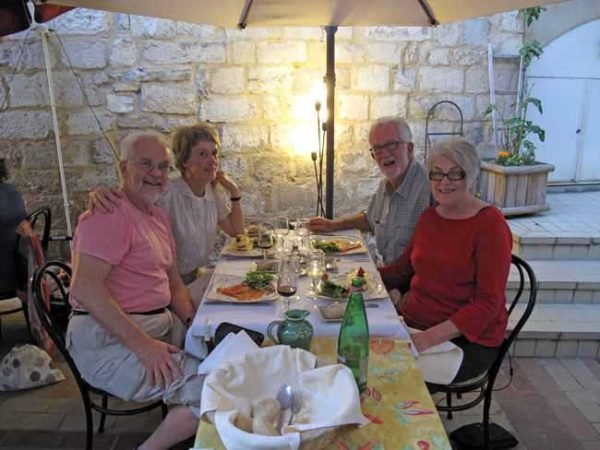 The 27-hour trip from Sydney to Paris was no more excruciating than usual, probably less so, and the few hours at Saigon airport passed pleasantly in a cafe overlooking the enormous expanse of what used to be the American air force base in the bad old days.
From chilly, rainy Paris we got the TGV to Valence and stepped out into a sweltering summer's day. Luckily the station interior was new and air-conditioned, a good place to have lunch.
Then we caught a normal train to Valence-Ville and changed to another which delivered us to Montélimar. Because we had Prem tickets, the whole rail journey only cost €95 for the two of us.

Our brother and sister-in law met us and we booked in to their hotel (there is no camping ground in Montélimar).
We dined elegantly in a small outdoor restaurant in an alleyway, and next morning wandered about the town, which is made up of a series of beautiful tree-shaded squares.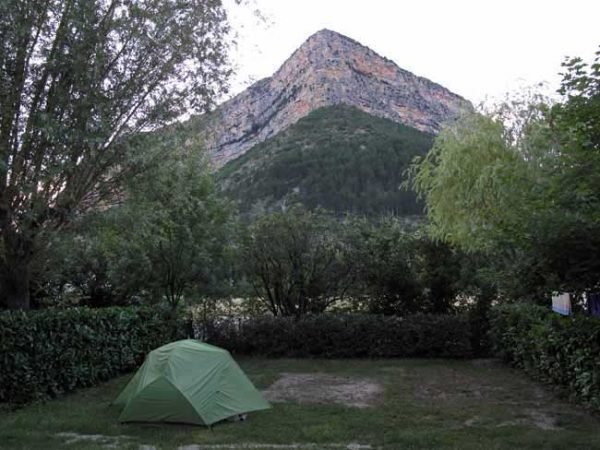 After lunch we said good bye to our relatives and got a bus to Nyons, passing through a landscape of olives, pines and vines punctuated by outcrops of limestone and the odd Roman ruin.
The final stage of our journey was on the afternoon school bus returning children to the villages further up the valley, so there was a lot of happy noise from our fellow passengers.
Arriving at Rémuzat just before 6 pm, we had time to put up our new tent for the first time, and have showers before strolling down to the village square for drinks.

We ate at the hotel, which was doing a great trade. The staff were getting more exercise than they wanted, as the kitchen was upstairs and they had to totter down to the terrace balancing laden plates.
The evening was warm, with a slight mountain nip to it.
Starting off gastronomically as we meant to continue, we shared a salad, and then had entrecôtes, consuming all the bread, wine and water provided.
As soon as we had finished, we walked back to the tent and fell into a blissful sleep.
Day 1: Rémuzat to Sainte-Jalle
Day 2: Sainte-Jalle to Buis-les-Baronnies
Day 3: Buis-les-Baronnies to Montbrun-les-Bains
Day 4: Montbrun-les-Bains to Sault