Monday, 6 July 2015
Distance 16 km
Duration 3 hours 35 minutes
Ascent 36 m, descent 61 m
Map 134 of the TOP 100 lime-green series
Anxious to get going before the heat arrived, we descended to the breakfast room just after 7 am, but it was locked and there was no sign of our host. The information on the door was evidently wrong.

Our problem was that we now needed to go and look for breakfast in the village, but we had not paid, so we ended up leaving our bags in the entrance hall as a token of our intention to return.
The café on the roundabout, which had a big "Petit Dejeuner" sign, was closed. So was the Atomic Bar, but we got lucky at the Café du Centre.
Armed with a bag of pastries from across the street, we settled down to an excellent outdoor breakfast.
Keith had two pastries and a coffee, while I had two coffees and a pastry, so we were both happy.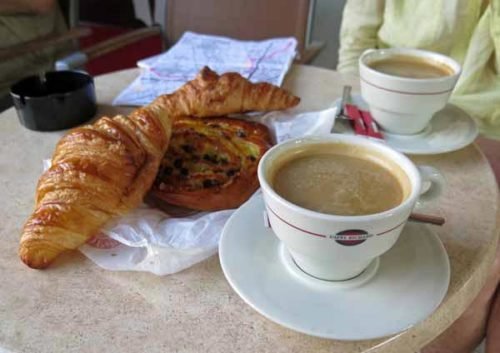 Back at the hotel, we paid the bill, retrieved our packs and set off down a little street parallel to the highway as far as the edge of town.
Here we crossed over and kept going until the little road forked and we took the left-hand branch.
The bitumen immediately gave way to dirt and then to a strip of mown grass beside a field of corn.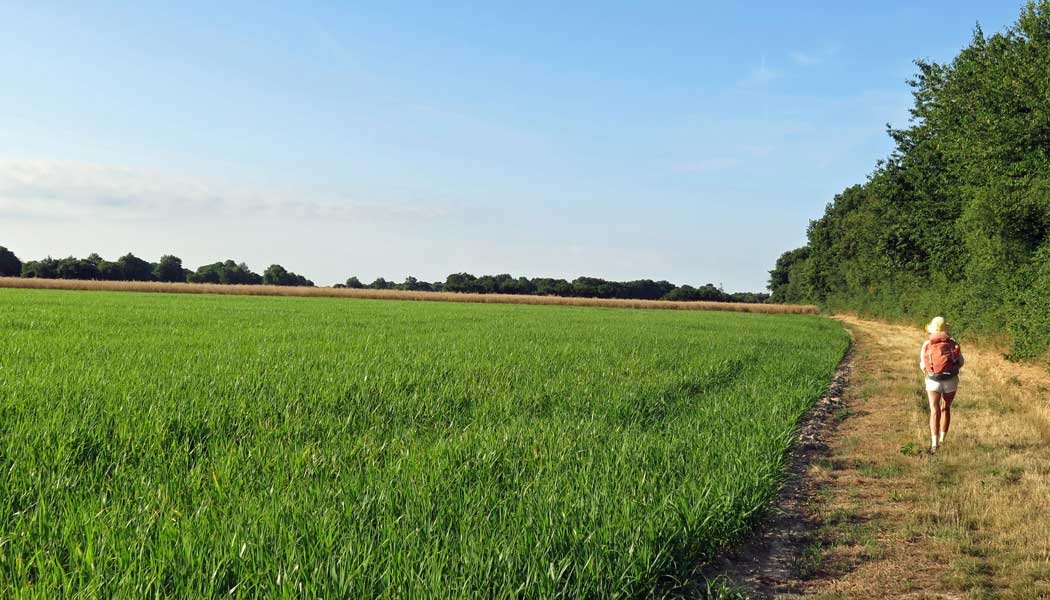 Not long after that we were deep in endless acres of wheat with no visible track at all, except for the flattened marks of tractor wheels.
Ahead loomed a dense wood which we needed to cross.
We entered it with trepidation, remembering our experience in the Puisaye and even yesterday's trudge through the forest, but it was better than that.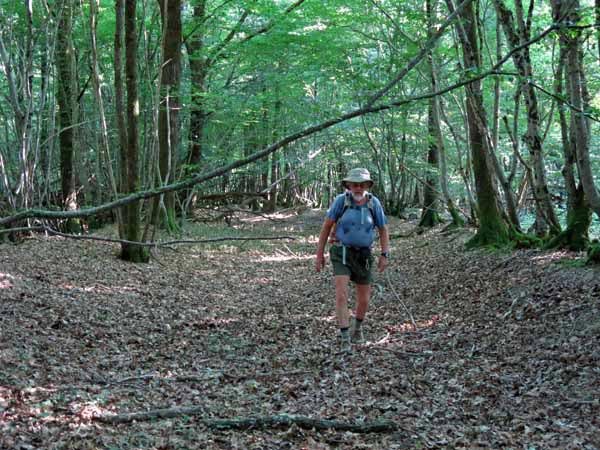 Although the track was hard to follow and looked as if nobody had set foot on it for years, we could see the mounded edges of what must have been a considerable road, and after a while it became a well-defined forestry track.
It took us an hour to cross this wood but we were not bothered by insects or slimy pools, for a change.
Apart from Keith's company, I had (on my iPod) that of the appalling sons of Septimus Severus, one of whom arranged to have the other murdered in front of their mother.

Once out in the sunshine again, we continued through the wheat until we came to a road (the D181) and about three kilometres later we hit the highway that we had last seen in Aubigny.
The village of la Chapelle-d'Angillon was in view at the bottom of the slope.
The odd name refers to a chapel which venerated a saint's tooth (dent) belonging to Gilon, who had built the original fortress in the 11th century.
We descended past attractive white-washed cottages with slate roofs and chimney pots. We were hoping for a bar, as we had been walking for four hours, but the first one we saw was closed.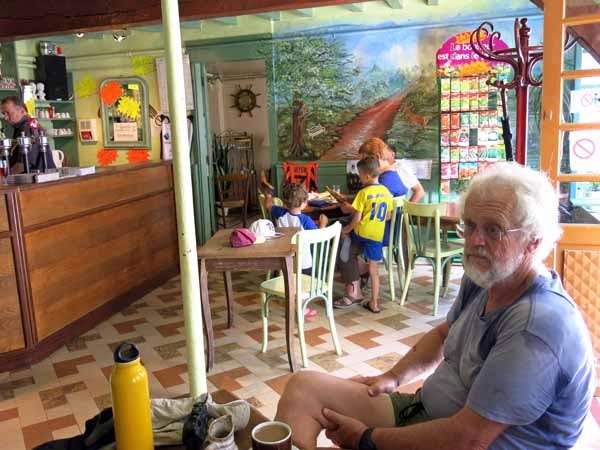 Turning onto a diagonal street we saw a familiar round beer sign hanging above the flower-bedecked front of a second bar, le Chêne Vert.
We went inside, as the tables on the footpath were in the sun, and ordered coffee, with plenty of hot milk, for the nourishment.
The small inner room had one wall painted with a pastoral scene and another lined with shelves of tinned food, soap, seed packets, stationery and the like.
It was full of people, some having drinks, some buying groceries, one having an early lunch – quite a little social hub.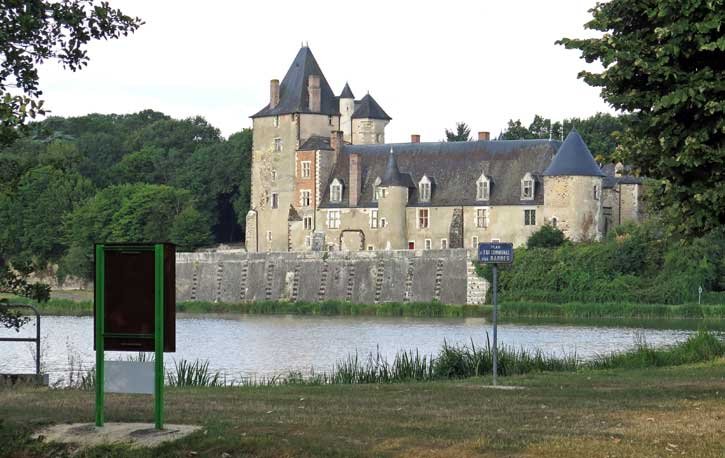 We emerged onto the main road (the D926), expecting to find shops, but there were none.
It would have been a miserable town for an evening meal, but luckily we did not care, as we had a friend in the district who was going to pick us up in her car and take us to her place for dinner. We had met her in Australia through mutual friends, who were German, as she was originally.
On the way to the camping ground we passed some sports fields and then turned off beside a little stream.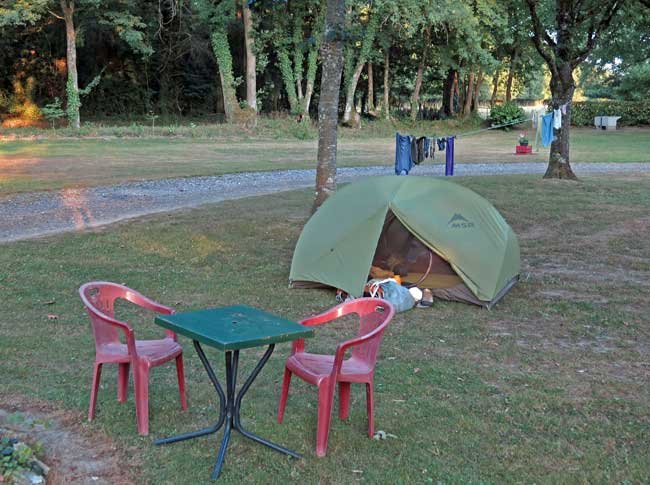 This was a mistake, but it led us along the shore of a lake, on the other side of which was a château (presumably the one which had housed the holy tooth), and then to the back of the camping ground. With a bit of effort we disentangled a wire barrier and entered it from below.
It was a beautiful place with wide sweeping lawns, trees and plenty of caravans, although not enough to make it seem crowded.
A young man and woman came up and showed us around the amenities, then gave us a table and chairs, and a bottle of iced water. It turned out that they had known our friend for years.

We put the tent up and had a snack consisting of the last of the lettuce from Toucy, some cheese cubes from last night, a paper tube of mayonnaise from the table at Gien and a nectarine from Aubigny. The rest of the afternoon was given over to a siesta.
Our friend arrived and kissed our young hosts and us, then drove us in her tiny car to her village of Ivoy-le-Pré.
She is originally German and speaks perfect French but not English, so our conversation was entirely in French.

In her little parlour she had prepared a beautiful spread of local cheeses, charcuterie, breads, wine, vegetables and fruits, to which we did full justice.
Afterwards we watched the news on TV and discovered that the world may end tomorrow night, or not, depending on whether an asteroid the size of a football field hits the earth or just misses it.
On that happy note we drove back to the camping ground, and Heidrun insisted on collecting us again for breakfast, declaring that Lachapelle-d'Angillon was a gastronomic desert.
Previous day: Coullons to Aubigny-sur-Nère
Back to this section's summary