Tuesday, 7 July 2015
Distance 20 km
Duration 4 hours 10 minutes
Ascent 97 m, descent 131 m
Map 134 of the TOP 100 lime-green series
We had an appointment to keep, so there was no delay in our morning preparations and we were all packed up when Heidrun arrived at 6:50 am and whisked us off to breakfast.
We left our packs resting against the office wall, as they would not have fitted into her tiny car.
The breakfast that she turned on was another work of art, on a par with last night's dinner.
We had boiled eggs, croissants, fresh bread, butter, jam and coffee. She told us that she was going to amaze her friends in the village with the news that she had been visited by a couple of Australians.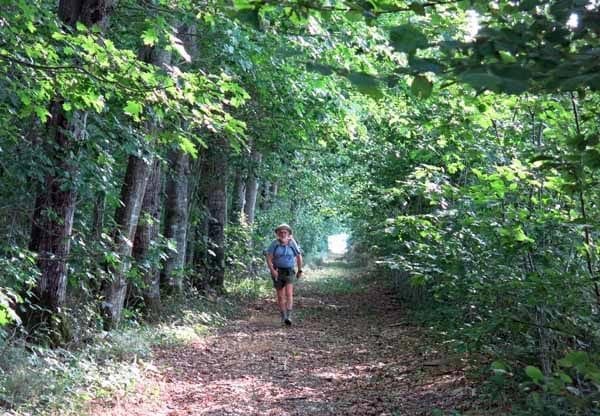 Back at the camping ground, we said a grateful goodbye to Heidrun, collected our packs and slipped out through the hole in the back fence, past the lake and the château, and through the village to a roundabout.
Here we took the D926 past scattered houses, looking for the turn-off onto a farm track that would avoid the bitumen, but then we decided that it was not worth deviating the extra distance on such a quiet road, so we continued straight ahead.
As it turned out, this was an even better idea than we thought, as we soon noticed a tree-shaded lane parallel to the highway, possibly the remains of an older road, and this took us to the place where we were to leave the road anyway.

The next part of the walk was across a broad hillside of wheat, rapeseed and young sunflowers, then through a patch of forest and onto a small road at the outskirts of the village of Méry-ès-Bois.
This was an exceptionally tidy place, with shaven lawns beside the road and low white houses behind hedges of astonishing neatness.
The main street was more canyon-like, although it did not seem to have many shops, or none that were of interest to us.
Then, just past the church, we came to a boulangerie and went in to ask about a bar. A debate ensued among the good women in the shop and eventually they decided that there was one a bit further down on the right. Plainly none of them had ever been to it.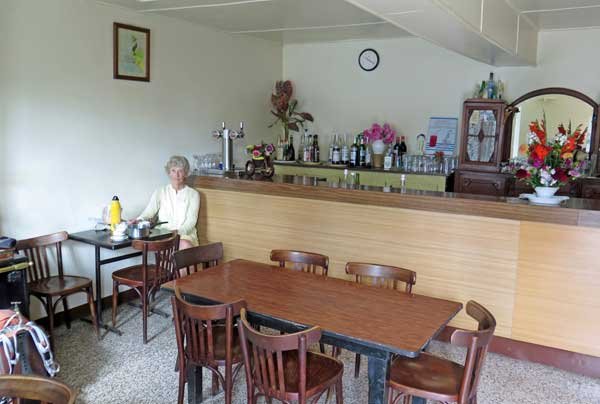 We were almost out the other side of the village before we found the bar, which could have been mistaken for an ordinary house except for the Pelforth sign hanging over the door.
Inside was an old-fashioned dining room with flowers on the counter and a magnificent old iron stove, made locally in the year 1900, said our proudly beaming hostess.

We ordered coffee and she bustled off, returning with a saucepan full of a dark brown liquid and a bowl of sugar cubes. She also gave us a little torch inscribed with the name of her café, Chez Ginette.
From the top of my pack I extracted two squashed croissants left over from breakfast with Heidrun, and we had a fine little moment of repose.

When we emerged we kept going down the same road (the D168) for a kilometre or so until we saw a tunnel of greenery plunging down through a field, seemingly an old path of some sort.
At the bottom we joined a tiny road, went over a low bridge and then turned onto an indistinct grassy lane that took us up to a wheel track. Shortly after that we found ourselves on the marked GR31, as we had hoped. It was good to know that we were where we thought we were on our map.
We went past patches of forest, some of it recently logged, and a large old house whose roof was in the last stages of disrepair.

After about three kilometres the track became a white gravel road winding picturesquely through a shining emerald-green wood.

I was listening to the story of Alexander Severus, that earnest, doomed young emperor, who was a great improvement on yesterday's emperor, the erratic, mascara-wearing teenage oriental Elagabalus.
The GR turned off from this road, and we covered the last two kilometres into Neuvy-sur-Barangeon on a swathe of mown grass as wide as a highway, labelled as a 'chemin communal'.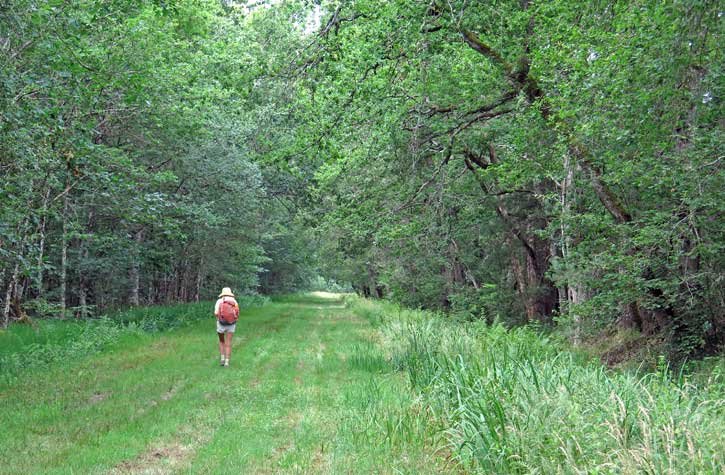 When we came out of the forest we were beside a lake, and we could see the tents and caravans of the camping ground on the other side of the water, and people fishing.
Luckily there was a short cut around the shore, so we were spared a long trudge on the road.
There was no office, only a tiny ablutions block, and behind that an abandoned railway station.
We chose a spot on the banks of the lake under some oak trees, and swung into the ritual of showers, clothes washing and putting up the tent.
We did not bother with lunch after our grand breakfast, preferring to sink down onto our mattresses and do nothing.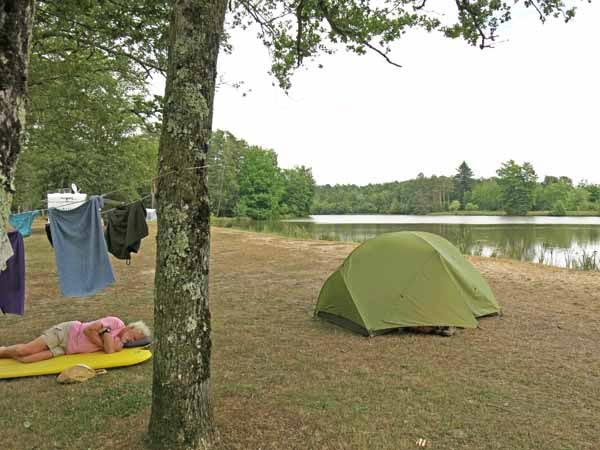 Sink down was what Keith did, unfortunately (as he had during the previous night). Our two repairs of his mattress had so far had no effect, so we tried again, found a third leak and put an end to the matter by patching it, or so we thought.
The camping ground was only a few hundred metres from town and later in the afternoon we strolled into town in our fresh clothes, past the clean little river Barangeon sliding over a green lawn. In the triangular main square we had a beer on the terrace of a café.


Neuvy-sur-Barangeon is on the crossroads of two highways and every truck in this part of France rumbles through the intersection, which did not bother us but might have annoyed the locals.
The town had two large hotels with restaurants attached, but both were closed, whether permanently or for some special reason we could not tell. The boulangerie was open, but would be closed in the morning – bad for our breakfast plans.

Fortunately there was another restaurant nearby, les Deux Gros (the two fat men), that was functioning normally, and we took a table on the front terrace for apéritifs. We preferred this to the terrace at the back which was full of teenagers drinking Coke.
At about 8 pm we went inside, which was still rather warm after the day's heat, but there were fans going and it was pleasant. There was no sign of the eponymous fat men – perhaps they were in the back room doing the cooking. The waitress was a thin woman.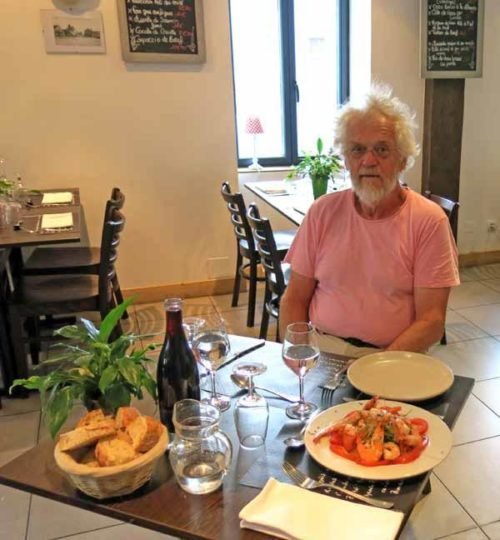 Several couples were already sitting there elegantly dressed, but we felt equally elegant in our non-walking clothes, especially as I had zipped on the legs that converted my shorts into long trousers.
The menu was also elegant, and more expensive than usual, not that we minded. We began with generous servings of smoked salmon, prawns and rocket.
Keeping in mind the closed boulangerie the following morning, I smuggled some of the smoked salmon and four rounds of bread into my bag for breakfast.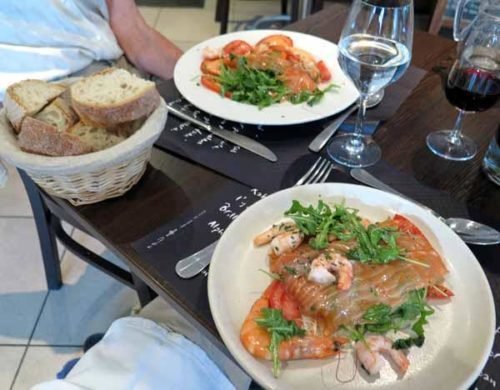 Moving on to the main course, Keith had moussaka and I had osso buco, both delicious and a bit of a change from our normal diet of grilled meat.

The wine was a local merlot in the odd quantity of 46 cl instead of the usual 50 cl – what is called a 'pot lyonnais'.
Back at the camping ground there was of course nobody to pay money to, so that made five free nights so far.
Previous day: Aubigny-sur-Nère to la Chapelle-d'Angillon
Back to this section's summary