Friday, 29 June 2018
Distance 26 km
Duration 5 hours 50 minutes
Ascent 172 m, descent 245 m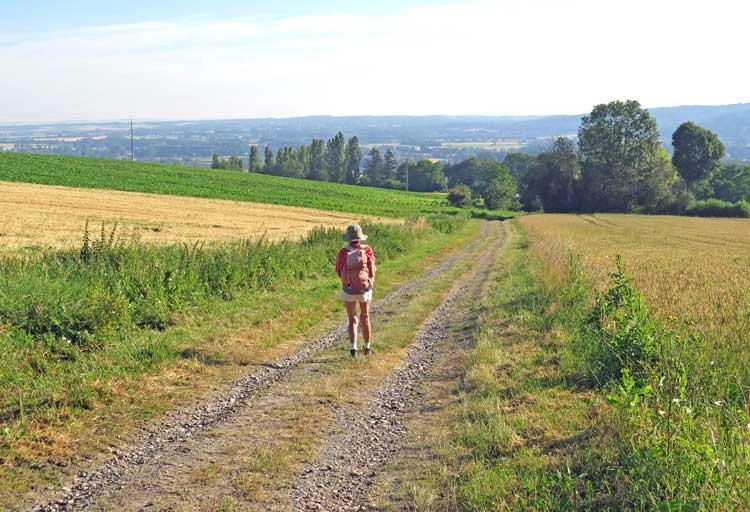 This morning, for the first time this year, the tent was dry instead of drenched in dew, and we did not need to flap it madly before stuffing it into Keith's pack.
It was not worth going all the way back to town for breakfast, so we set off with marching food in our hands – a couple of slices of pizza from last night – hoping for coffee and pastries later on.
Turning away from the centre of Billom, we crossed a great conglomeration of roads and soon after that we left the bitumen on a stony track that rose rapidly behind some houses.
It dipped, then rose again and we walked between sunlit fields of wheat and pasture, with an occasional patch of vivid green corn. The weather had been perfect ever since we arrived in le Puy and we now expected nothing less.
We followed this track for the next hour or two, until it approached a forested ridge, on which we could see the outline of towers and turrets – the ruined château of Ravel.
At the foot of the ridge lay the village of the same name, and we were pretty sure that we would find breakfast here.
The first thing that we saw as we entered the village was the faded wreck of a bar, which cast me into gloom, but Keith remained confident, and a bit further on, in the church square, we found not only a lively bar, but also a boulangerie and an épicerie.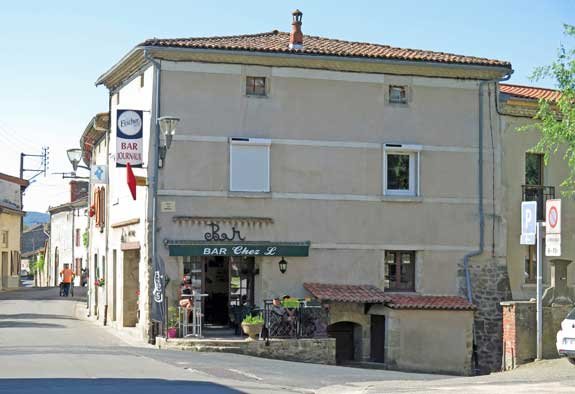 We spent a happy half-hour squeezed into the little terrace chatting with a few locals, who were amazed to discover that we were not here to visit the château, as all other visitors were.


As we set off again my blisters were agonising, but the pain lessened as we went along, as is the way of blisters.
The road out of Ravel was a little thread of a thing that followed the base of the ridge until the land flattened out.
Not a single car came past, but there was nevertheless the hum of a motor in the air. We soon came to a farmer collecting rolls of hay from his fields with great tongs mounted on a tractor.
It was a wonderfully French scene – the smoothly undulating green fields, the patches of dark trees, and a nameless château sitting casually on the skyline.

About a kilometre further along, the road crossed a railway line and entered the town of Lezoux.
The main street was a canyon of shops and we got a bag of croissants at a boulangerie before arriving at a pleasant looking bar, whose terrace was shaded by a young plane tree. A couple of hours had gone past since our last breakfast, so we were ready for another one.
Once again our fellow drinkers were chatty – they probably do not get a lot of wandering walkers in this part of the country.

We left Lezoux by the main road but soon branched off on a much smaller one, which turned towards a thick patch of forest.
At the edge of this forest was a gypsy camp, with the usual caravans, washing lines, dogs, lounging adults and tumbling children.
Polite greetings were exchanged and we passed into the forest, hoping that we would not be approached for money, as we had been a few times in the past, and of course we were not.
The dusty forest road came to an intersection, where we turned left and crossed the mighty A89, the source of the increasing roar that we had been hearing.

From the bridge we looked down on this alien world of vanishingly straight lines and howling vehicles, and wondered what it would be like a thousand years from now – perhaps full of supersonic capsules, perhaps a rough walking path, as some Roman roads had become.
After that we had about six kilometres of small roads and tracks to cover to reach our destination, which we finally did at about 3 pm.

I was very pleased to finish the day's walk because my blisters were being a nuisance.
With this in mind we began to think of shortening the long day (32 kms) that was coming up the day after tomorrow. We could do this by staying in a hotel halfway, at the town of Randan.
The village of Pont-Astier had seen better days and was little more than a line of empty, peeling houses along the road.
However the camping ground was a large, bustling place with a restaurant-bar, a boules court, a games area and many campsites on the banks of the river Dore, a tributary of the Allier.

While we were booking in, we asked about dinner and were horrified when the man said the restaurant was not open tonight because of a boules competition. But he told us not to worry, we would get something.
With this vague reassurance, we went down to the emplacements, each one hemmed in by tall cypress hedges, and chose a spot. There were several other campers nearby, some staying in cabins, but they were all invisible behind the hedges.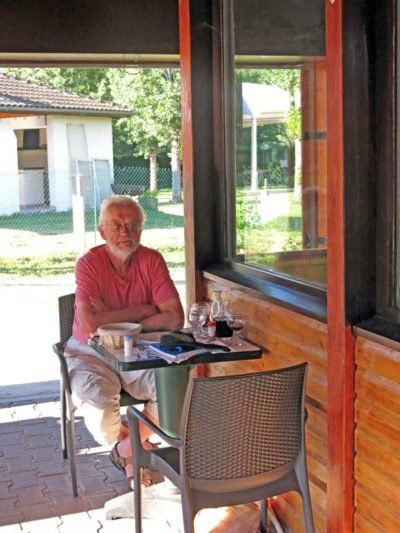 Also we were attacked by mosquitoes for the first time this year, and had to bring out the repellent.
We saw a crowd milling about some long tables at the bar, eating and drinking, but soon they all moved off to the boules court and we went up to occupy a table for a glass of rosé.
The sun was still shining hotly but we managed to stay in the shade. Madame appeared and asked what we would like to eat, to which the only reply was "what have you got?".

We ended up with very simple fare – an entrecôte and chips for Keith, and a bavette and salad for me.
Naturally the red wine and bread were plentiful and we were very grateful. So were a few other diners who had materialised when they saw us eating.
To finish the meal, Keith had two scoops of icecream (coffee and rum-and-raisin) while I had a gran'crème.

At this point our hosts came and sat with us, curious to know where we were heading.
They did not see why we could not just keep marching down the Allier to Moulins, but we said there was nowhere to stay in many parts, which was why our track was so crooked.
Madame even offered to drive us to Moulins, assuring us that it would only take two hours (in the event, it took us a week to get there).
When we mentioned wanting to stay at the hotel in Randan, they rang the hotel and after some difficulty managed to get us booked in, so that was a great relief, and we gave them a kiss of gratitude as we said goodnight.
Previous day: Longues to Billom
Back to this section's summary