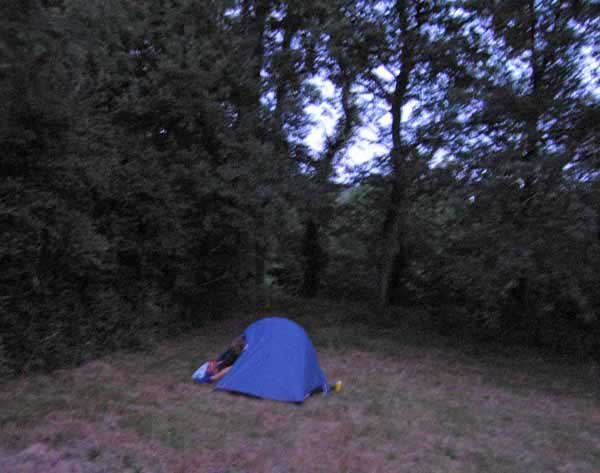 Saturday, 23 July 2005
Distance 30 km
Duration 6 hours 10 minutes
Ascent 352 m, descent 346 m
Map 64 of the TOP 100 blue series (now superseded)
We woke, if you could call it that after such a sleepless night, at 6 am, just as daylight was seeping back into our field, the moon having sunk.

By 6:15 we were packed and away, back to the bridge, at which point we felt secure at last.
We set off with a happy feeling of relief up the highway and turned onto the road to Lautrec. Even at that hour it was far from empty, but we did not care.
I picked some greengage plums from a hedgerow and we had a pleasant breakfast beside a farm dam.

Our plan was to rejoin the old railway line after visiting Lautrec. Along the way there were fields of sunflowers and also of wildflowers.
These latter were part of a regeneration project, the Jachère Fleurie (flowering fallow-land).

Before we got to it, we saw Lautrec perched charmingly on a promontory amongst fields, with its little windmill and large crucifix at the top. It turned out to be a Plus Beau Village, and deservingly so.


It is also famous for its pink garlic, which was for sale at every turn.
The streets, the houses and the triangular arcaded marketplace were all delightful. At the boulangerie we were directed to a shady bar, where we had a second breakfast at 9:30 with croissants and pains aux raisins.
The coffee came black in small cups, full to the brim, with a separate large jug of hot milk.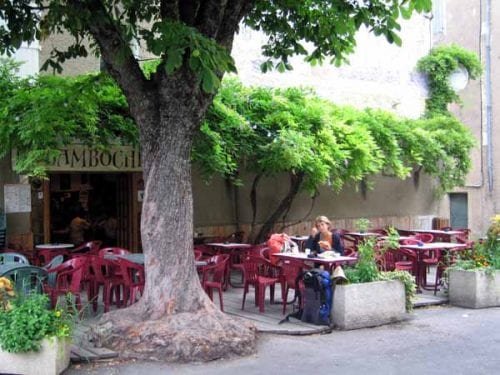 We should have just poured the coffee into the jug and started again, but our brains were addled by our morning's exercise and instead we sipped and poured, sipped and poured, gradually increasing the milk level until we were drinking almost pure hot milk.

At the windmill we found out about the history of the village. Its former prosperity was based on an unprepossessing member of the brassica family, Isatis tinctoria, known as pastel,which, when ground and dried, produced an intense blue dye called cocagne (woad).
It was such a lucrative industry that the whole area became the Pays de Cocagne, or Land of Plenty.

The morning was well advanced and getting hot when we strolled out of Lautrec.
It was downhill all the way to the Voie Verte, which passed underneath the road and required us to slither down a chute of stones to reach it.
A few cyclists and the occasional jogger went past us as we strode steadily along.

There was a fine pigeonnier standing by itself a little way off the track over a ploughed field.
The last nine kilometres were marked at half-kilometre intervals, so we amused ourselves by timing our progress. We found we were doing a shade under 6 km/hr and taking less than 1300 steps per kilometres. It passed the time.
The track ended abruptly in the streets of Castres, leaving us to guess our way into the centre. We got there about 1 pm and admired the beauty of the old buildings rising directly out of the river, the Agout.
On our side the great square with its fine solid buildings looked more recent.

We took a table under the arcades for our second coffee break, and watched while the weekly market packed up. This was almost entertaining enough to make up for the price of €8.50 for two coffees.
As as the trucks and their impossibly long trailers pulled out, they left drifts of rubbish everywhere, mostly fruit boxes and discarded produce. This was immediately set upon by scavengers who scuttled in to take a sack of potatoes, a melon, or a pile of boxes. Then the forces of cleanliness moved in.
Men with brooms, men with hoses, men on street-sweepers, men with gloves throwing the rubbish into compactor trucks. Tanker trucks hurtled in to spray water and in half an hour the place was immaculate. The cafés moved their tables and umbrellas out and life returned to normal.

Across the river was a row of mediaeval cottages that lined the water like a poor man's Venice, and behind that, a maze of lanes.
Somewhere amongst them was the birthplace of Jean Jaurès, the first leader of the French Socialist Party and a committed pacifist, who was trying to head off the slide into what became World War 1 when he was assassinated in a Paris café in July 1914. He remains a hero of the left and there is hardly a town in France (especially in the south) that does not have a street or a square named after him.
At the Office of Tourism over the bridge, we found out that there was a river ferry that could take us to the camping ground but we preferred to walk, as it was not far (1.5 km) and there was a cycle path some of the way.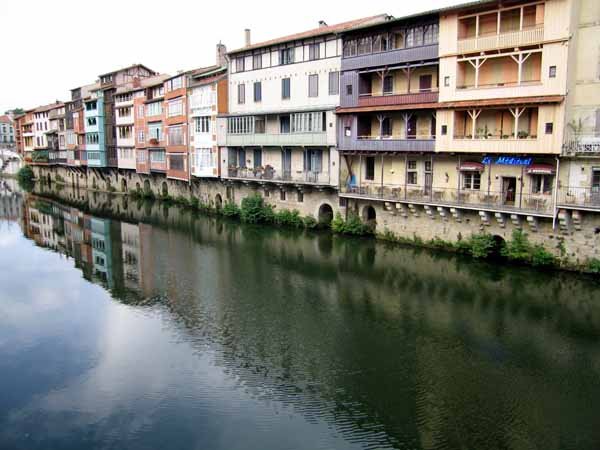 We were so much into the swing of walking that any other means of locomotion seemed out of the question. However it was a hot walk. High on the crest of a hump-backed footbridge we saw a plaque marking the top of the 1996 flood, defying belief.
Nobody was in the office at the camping ground, but we went in and searched around for an emplacement. All of them were appallingly grim, dusty and bare.
We eventually settled on one with a remnant of grass and some shade, had our lunch, then had showers in the luxurious new domed ablution block, where music played and the water was controllable in both quantity and temperature.

The camping ground was well occupied and we rejoiced in not being obliged to skulk in a hedge, as we had yesterday, and in having people coming and going around us. The rest of the afternoon was spent in pleasant horizontal oblivion.
Before we went back to town we signed up at the office. The manager asked me whether I had brought any animals and I said, only this donkey (indicating Keith).
Once back in the centre we pressed on to the railway station, to ask about the times of trains to take us from Revel to Toulouse in a few days' time. Our walk was ending in Revel and we had tickets on a flight from Toulouse to Paris the following day.
The reply was brief and shocking – the line from Revel to Toulouse was closed. We quickly revised our request and got the timetable of trains from Castelnaudry to Toulouse. If we found there was no bus from Revel we could walk or hitch to Castelnaudry.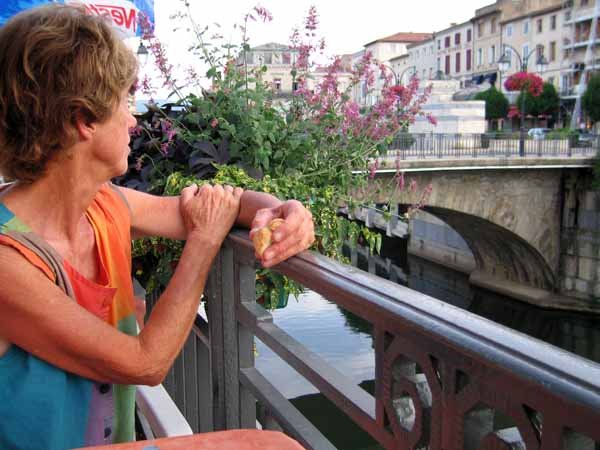 By the time we finished all this and regained the centre of the town, we were tired, hot and hungry. We had apéritifs in the main square, but after the astronomically expensive coffees of the morning, we decided to look for dinner on the other side of the river, where a maze of pretty little lanes promised a good variety of food.
In the event they were disappointing. Most of the restaurants were Asian, with paper tablecloths and shiny photographs of the wares on offer.
The only exception was the Yankee Grill, whose very name disqualified it from consideration. The big brasseries in the main street did not rise above steak and chips, which had been our dinner for the last two nights.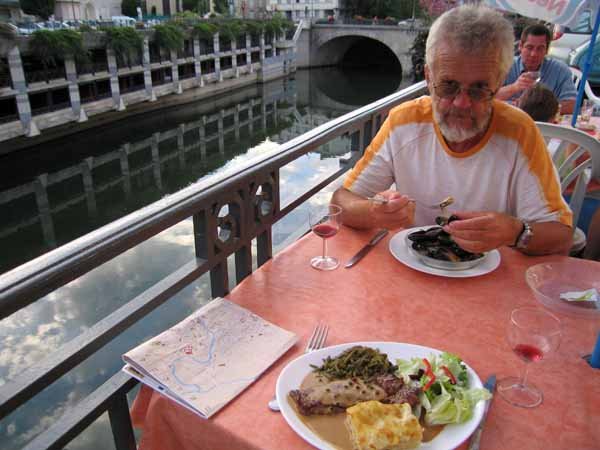 Wandering back towards the river, slightly at a loss, we discovered that the elegant waterside restaurant attached to the Logis de France hotel had a €14.50 menu, which was full of delights. We sat down and ordered one menu plus a main dish.
The entrée was moules marinières, whose juices we sopped up with bread for lack of a spoon. We got through three baskets of bread in the course of the meal. Then we had steaks with green pepper and mushroom sauces respectively, and Keith finished off with a tarte aux pommes.
By then we were getting sleepy after the rigours of last night, and darkness was fast approaching as we hurried over the humpback bridge and back to our tent. We sank into a deep, grateful sleep and did not stir till morning.
Leaving Castres
Castres has a railway station. From there you can go to almost anywhere in France.
Previous day: Albi to Réalmont