Thursday, 27 May 2010
Distance 28 km
Duration 6 hours 40 minutes
Ascent 142 m, descent 92 m
Map 35 of the TOP 100 blue series (or Map 140 in the new lime-green series)
Topoguide (ref. 6542) Sentier vers Saint-Jacques-de-Compostelle via Vézelay

Breakfast was at eight, so we had time for showers in the dilapidated cubicle before descending to greet our busy, talkative little hostess. Once again we sat at the kitchen table and it was a treat to have big bowls of coffee without having to walk miles to get them. The croissants were almost as antiquated as the house, but the bread was fresh, and there was butter and jam to go with it.
While we ate, we looked at the map and Mme Mativon showed us a better way to get to Saint-Amand-Montrond, that did not roam so high into the hills. She also marked the location of some big hardware shops (Gédimart, Bricomart, Weldom), as I had told her that my shoes were disintegrating and needed glue.

At 8:45, with much shaking of hands and promises of postcards, we set off, leaving the highway almost immediately and following a tiny canal to Saint-Pierre-les-Étieux, whose church steeple could be seen across the fields.
It was a remarkably old church, eleventh century and earlier, predating the golden age of pilgrim churches, with a frontage of affecting simplicity, as if it had outlived all adornment.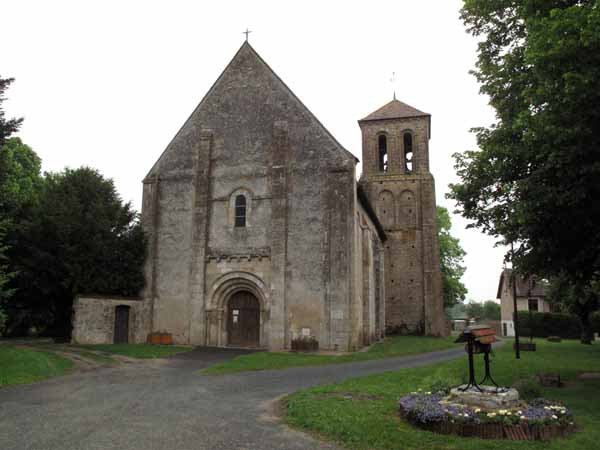 Beyond the village we departed from the GR, taking a lower road, and were surprised to see the blue and yellow marks of the pilgrimage going our way. At this stage we did not understand that these two sets of signs were completely independent.
After a couple of kilometres we turned left, crossed the highway, and resumed our walk along the weedy Canal du Berry, where small yellow iris lined the banks and the grassy towpath was sprinkled with daisies.
The sun came out in sky full of clouds as we approached the bridge and turned into the outskirts of Saint-Amand-Montrond.

We hit the highway exactly at Gédimart and went in to ask for something to repair my shoes. The salesman produced a tube of contact glue, not the wonderful Résist-à-Tout that we had bought on a previous trip, but adequate for the purpose.
It was a long walk, past factories and car showrooms, before we came to the centre of town.
Meanwhile the GR had joined us, and we followed it into the old part near the river, where there were low houses and a little church. There we had to leave the GR again, as our aim was to find the shopping area, to get more cash and the next map.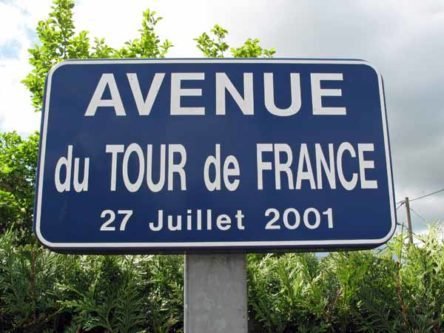 With the help of some local residents we arrived in an area of smart shops, spread through a maze of tight lanes and squares. Our first act was to have coffee, after which we got the money and the map.
It was here that we discovered that a new series of TOP 100 maps had supplanted the ones we were used to, with different numbering and on a different grid.
When we left Charenton, we had intended to stop at Saint-Amand-Montrond for the night, as it was a big town and had a camping ground, but it was such a short distance that we ended up pressing on to Loye-sur-Arnon, to the west of the canal which was heading for Montluçon.
Leaving Saint-Amand-Montrond
Saint-Amand-Montrond has a railway station. From there you can go to almost anywhere in France.
Previous day: Sancoins to Charenton-du-Cher