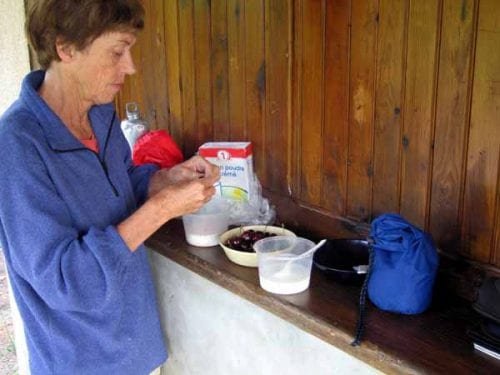 Tuesday, 20 June 2006
Distance 9 km
Duration 2 hours 0 minutes
Ascent 261 m, descent 167 m
Map 36 of the TOP 100 blue series (now superseded)
Just before dawn there was tremendous thunderstorm that almost submerged the football field, but we stayed dry in our little tent.
I was eager to get up as I had had an uncomfortable night with my hip-hole in the wrong place – it was more of a hip-hump. However we had to stay put until the downpour stopped.

Then we had a quick bowl of muesli under the eave of a closed kiosk near the change rooms, and stepped across the square to have coffee and pastries with Basil.
It was almost 11 am before we started, with our rain capes at the ready, but they were not needed.
A steep ascent from the square revealed that the town was bigger than we had thought, and there was even another hotel up there, the Hotel Beau Site, with a fine view.

Beyond the houses the forest was dense and sodden, but the gravelly track made walking easy. We passed one tree shattered into matchsticks by this morning's lightning.
There was a short stretch on a minor tar road, then another forest path until we descended to the lake shore on an almost suburban street, the water sparkling through a screen of birch trunks as we approached.
We almost walked past the municipal camping, which we had been told was much further along the lake road. Soon we were installed on a choice grassy site with a view of the water. It was our shortest day's walking of the entire trip.
The Lac des Settons is the largest and oldest of a series of artificial lakes in the Morvan, constructed to provide water for the "flottage" of logs down to Paris, and also to regulate the devastating floods coming out of this wet corner of the country (the Morvan is known as the Water Tower of France). Latterly the lakes have become tourist destinations in themselves.

In the afternoon we set out to check the eateries along our part of the shore and after a long trudge we found that the only place for miles was the little restaurant right next door to the camping area, the P'tit Grill, where we had a satisfying meal later that evening.
We had a salad with goat's cheese and nuts, then steaks as usual, washed down with a jug of red.
Previous day: Anost to Moux-en-Morvan
Back to this section's summary