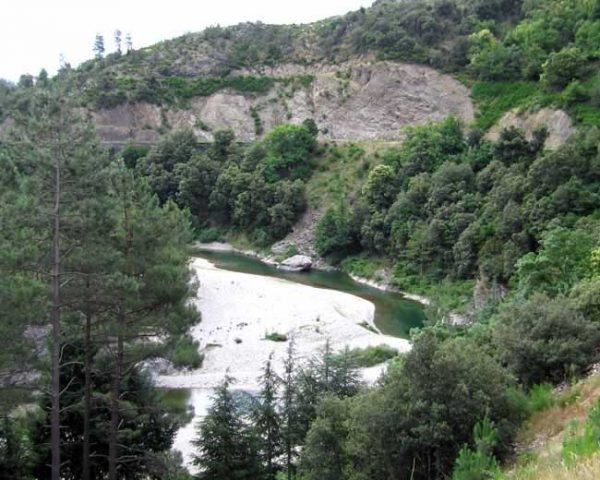 This very hilly two-day crossing of the Cévennes took us over one of the major watersheds of France, from the land of the various Gardons, flowing into the Mediterranean, to that of the Tarn, which flows west to the Atlantic.
The country is notoriously rough and ungovernable, both physically and politically.
It was formerly the home of the Camisards, the Protestants who dominated the area from the sixteenth century.
After the Wars of Religion were ended by the Edict of Nantes at the end of that century, the Camisards were permitted to practise their religion in relative peace until the Edict was revoked almost a century later, in 1685, when they were once again pursued and persecuted.

They refused to give up their religion, however, and open warfare ensued, starting with the murder of the abbot du Cayla in Pont de Montvert in 1702, at the hands of an angry crowd, led by the inflammatory prophet known as Spirit Seguier.
This event was described vividly by Robert Louis Stevenson, good Protestant that he was, in his book "Travels with a Donkey in the Cévennes".
During the subsequent reprisals, the Camisards had the advantage of knowing the local terrain, and inflicted heavy losses on the king's men, but the fighting fizzled out about 1705, when most of the Camisard leaders had either died or disappeared.
The area is still largely Protestant, and the village of Cassagnas is one of the few in France with a Protestant church (a "temple"), but no Catholic one.
Day 16: Saint-Jean-du-Gard to Saint-Germain-de-Calberte
Day 17: Saint-Germain-de-Calberte to Florac
Previous section: Pont-du-Gard to St-Jean-du-Gard