Saturday, 15 July 2017 to Monday, 17 July 2017


The train to St-Amand-Montrond left at about 10:45 am, so we had plenty of time to indulge in breakfast at le Sull'ys, sitting under an umbrella beside the canal.
At the next table was a couple who were talking animatedly. He spoke exclusively in French and she in Italian, but this did not impede the conversational flow at all.
After this linguistic entertainment we walked the few steps to the station and soon the shiny little green train swept us miraculously up the canal as we tried to recognise bits of the track along which we had walked in 2012.
We got out at Orval, just across the Cher river from St-Amand.

Having been to this town three times in the past, we had no trouble finding our way to the camping ground, which was on the canal about 2 km away.
It was a much more regimented establishment than the one at Vallon, with numbered, hedged plots and a large games room.
We settled in and did very little until late in the afternoon, when we walked the familiar route into the centre and had a drink at the slightly garish, old-fashioned art-deco bar called la Rotonde, on the main square.

After that we went looking for our favourite restaurant, le Massilia, but it was closed for renovations, so we found a new one in the side street, la Pizz, which had taken over a small carpark opposite with tables, awnings and potted plants.

We joined a crowd of other diners and had a lovely meal of salad, veal escalope (for Keith) and lasagne (for me).

The following day was an eating marathon. We had a pastry-rich breakfast at a bar in the main street, lunch under the awning at the Rotonde (omelettes and rosé) and dinner back at la Pizz.


Between these feasts we strolled about the streets and relaxed in the camping ground. We even joined a roomful of other campers watching a stage of the Tour de France on the TV in the games room.
On the last of our rest days, we had a late breakfast in the square – two rounds of pastry and two coffees each – and strolled to the station in time for the sleek green train to whisk us back to Vallon.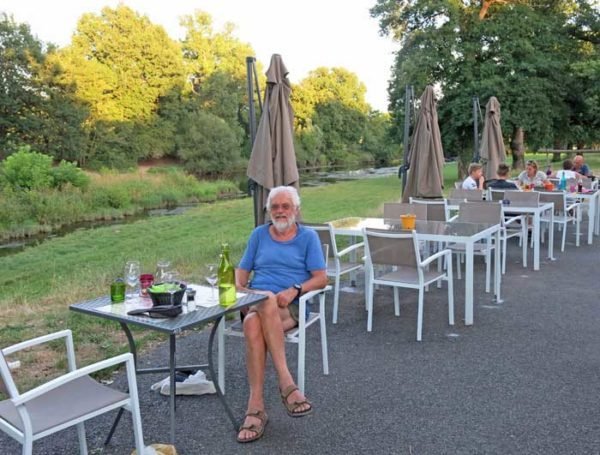 As it was Monday, le Sully's was closed, but the restaurant on the levee bank near the camping ground, which had previously been closed, was now open.
We had shown great foresight by booking a table here before setting off to St-Amand, and it was just as well, as the outdoor tables were nearly all taken by the time we arrived.
Our table looked down on the small, meandering river Cher, with its reedy banks and its waterbirds.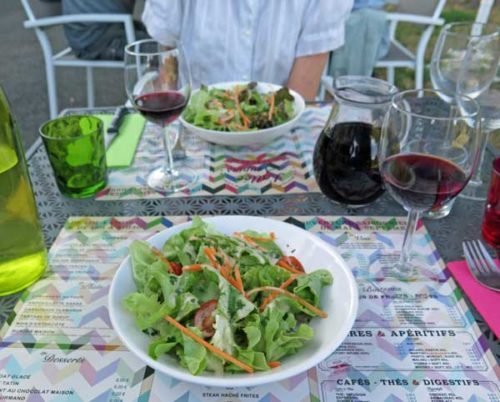 Here we had a delightful meal – large salads as a starter, and then an entrecôte for me and boeuf bourguignon for Keith, which he said was excellent, although it looked rather soupy.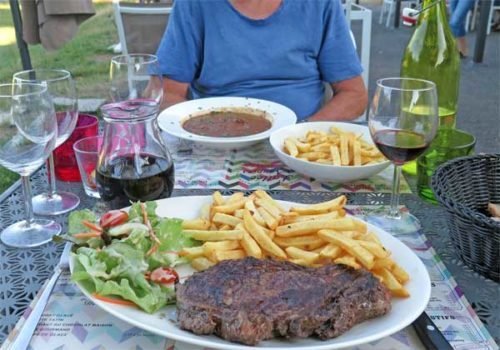 We only had to walk a few steps to reach our tent. Before retiring we had a chat with an old fellow in a big tent near us, and he declared that there was no camping ground at Chazemais, but we knew better (we thought), because we had seen the website for it.

Previous day: Hérisson to Vallon-en-Sully
Back to this section's summary