This seven-day walk (part of a longer walk that we did in 2006) took us from the gentle Burgundian landscape of Autun to the equally gentle one of Lormes, through the great wild forest of the Morvan.
In former times it was a lot wilder than it is now, but it is still rough terrain, sparsely populated and considered backward by most French people. On the other hand, the local inhabitants are intensely proud of their area and their history.
The first day was through undulating pastoral land and it was only on the second day that we entered the forest. Despite the relative paucity of villages, and the dire predictions of people who had been there before, we had no trouble walking between one village and the next in a morning, and they all had good camping facilities, as well as hotels.
Autun

Autun has an interesting history – it was built specifically to tempt the local Gaullish population with the attractions of Roman life.
The first contacts between the Romans and the Gaullish tribe of the Aedui had been peaceful enough, with trade and military cooperation, but by the middle of the first century BC things had changed.
Several of the Celtic tribes formed an alliance and, under their young leader Vertingetorix, they fought their final battle with the Romans in 52 BC, and lost. This was the battle of Alésia.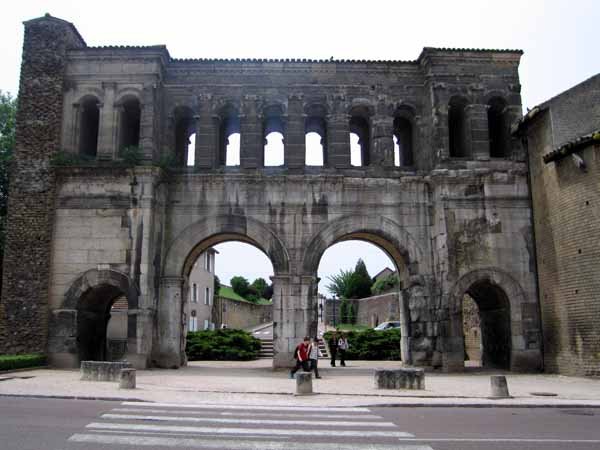 Nevertheless the Aedui continued to occupy their fortress, Bibracte, on the flat-topped Mount Beuvray.
With considerable subtlety, the Romans decided to entice, rather than force, their recalcitrant subjects to abandon this stronghold. A few miles to the east, the town of Autun (originally Augustodunum, after the current emperor Augustus), was set up with all possible elegance and comfort.
Sports and entertainments were held at the amphitheatre, which still stands. Within a couple of decades Bibracte was deserted, as the indigenous people came down to enjoy the amenities.
Getting to Autun
Autun has a railway station so you can get there from almost anywhere in France.
Day 1: Autun to Sommant
Day 2: Sommant to Anost
Day 3: Anost to Moux-en-Morvan
Day 4: Moux-en-Morvan to Lac des Settons
Day 5: Lac des Settons to Ouroux-en-Morvan
Day 6: Ouroux-en-Morvan to Brassy
Day 7: Brassy to Lormes
This map shows accommodation icons for each night. Zoom in on a particular icon to see its precise location.
You can also see this map using Google Earth and take a virtual flight along our route.