Thursday, 22 June 2006
Distance 19 km
Duration 4 hours 20 minutes
Ascent 419 m, descent 562 m
Map 36 of the TOP 100 blue series (now superseded)
Map 28 of the TOP 100 blue series (now superseded)

The sky was like pewter as we swallowed our muesli. Returning to the village, we had coffee at the hotel, indoors this time because of the chill. With the coffee we got a biscuit and glass of coffee liqueur adorned with cream and a coffee bean, the same as yesterday afternoon.
Perhaps it was a little early for alcohol, but we thought of it as a pre-emptive strike against the weather, which degenerated into fine rain as we set off.

Following the GRP signs, we pursued what looked like the old cobbled main road through the forest, then a series of sticky red mud tracks. In our flimsy plastic capes we had to be careful not to snag ourselves on a bush. Soon our feet were soaked.
As we were by then off our map, we made a mistake at Savault, but quickly realised it when we came to a dead end in a farmer's field. The walk seemed long, up and down through field and forest.
At midday we expected, and heard, the bells from Brassy, our destination, which gave us encouragement, but we later realised that the Brassy bells were unusually loud and we were not near them at all.

Emerging at last from the dripping green twilight of the forest, we were among houses, but they were not the houses of Brassy. They were the houses of le Mont. An old stone marker told us that we still had 1500 m to cover and only a few minutes until the shops shut for lunch.
As Keith had a sore knee, I rushed ahead in thickening rain and arrived half-drowned in a little street of shops facing the church.
I got my foot through the door of the boulangerie, and even made it into the small supermarket before they closed. Keith having arrived by this time, we chose a bar for our well-deserved morning coffee.

For such a small town it was well endowed with comforts – two hotels with bars and a café-presse, which we favoured, even though it did not have the map we needed. The woman who served us was blowsy and raddled, with wild bottle-black curls.
We later discovered that several other women in the town looked similar, except that their hair colour varied, brassy blonde and ginger being popular. Perhaps that was the origin of the town's name.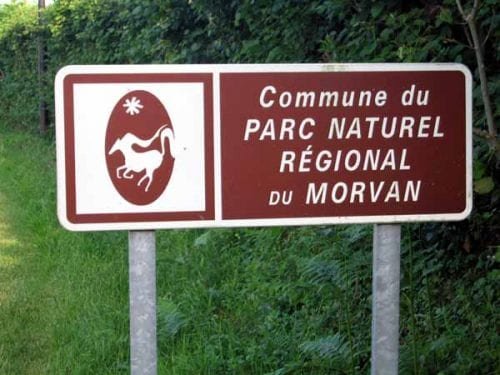 We then set off in search of the camping area, along the road to Lormes, and almost turned back before we got to it, it was so far out of town.
When we finally found it, there was not a living soul in the place, but the grass was freshly mown and the showers hot. It did not detract from our enjoyment that we had to hang on a chain whilst showering to keep the water flowing. It was like showering in a tram.

After setting ourselves up and having lunch, we went back to town in sandals to look around and have another round of lazy coffees.
Unlike on some occasions, we were not the first Australians ever to visit the place – there had been a couple staying here last year who had exhausted the hotel-owner by speaking English to him for a month.

Back at the camping ground, things were warming up. Three caravans were now occupied, including one in which a seven-year-old boy and his father spent access weekends together. This child busied himself making little bouquets of weeds for us and telling us about his double life. We had to assure his young father that he was not annoying us.
The walk back to town in the evening no longer seemed far. We dined elaborately in the almost empty Hotel du Centre, attended by one of the brassy blondes. For €11 including wine, we had a fine four-course meal.
A plate of charcuterie and a complex salad prepared the way for fillet steak with herby sauteed potatoes, then we had what is so delightfully called a plateau of cheese, and afterwards an apple tarte and icecream.
When we had finished we were invited into the chef's private sitting room to watch a World Cup match on TV. Our nation was playing Croatia, but our host preferred the match between Brazil and Japan, unfortunately.
Previous day: Lac des Settons to Ouroux-en-Morvan